It was a tough battle between the Top 11 stories chosen by users, but here are the winners!
1st place – $800
Just Like Dostoyevsky by Barry Rachin

2nd place – $500
Candle Bright? by Matthew D. Smith

3rd place – $300
Metamorphosis by Valerie Byron


Congratulations to all the winners!
You can also check out the judges' comments in the forum and read the rest of the top 11 below:
I Write Like is a fun tool that analyzes your writing, compares it to a database of famous authors, and tells you which one your writing is most like.
Based on the one blog post I submitted to it:
Who do you write like?
I saw this on Bitstrips, laughed out loud, thought I'd share it.
Are you a poet yourself, or love reading poetry? Check out the Dead Poets Society, BookRix Poet Society and Poetry Books in BookRix Groups.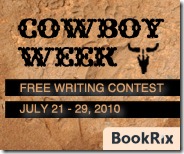 July 24, 2010, is National Day of the American Cowboy in the USA. In honor of the occasion, we're declaring it Cowboy Week here at BookRix.
Cowboy Week will be full of cowboy and cowgirl stories! Any stories that relate to modern-day cowboys/girls to old-fashioned ones who ride off into the sunset are acceptable. Shine your cowboy boots and get your horse ready – Cowboy Week on BookRix will take place between July 21 and July 29. Boy howdy!
For this writing contest, there is no limit on pages! You may enter more than one book in the contest.
And we sure do have one heck of a prize: $100 gift card to a Western wear store for the first place winner! Now you can get that genuine cowboy hat you've always wanted!
Community Voting – July 21, 2010, to July 29, 2010
Not ready to join in? You can still help your fellow BookRixers by reading their contest books and voting for your favorite stories. Our readers choose the top story to receive the fabulous prize.
This was very helpful. I finally realized I'm doing it all wrong!