Writing Contest – Battle of Words X: Worst Summer Jobs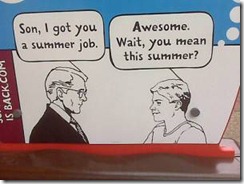 The next Battle of Words (BoW) X starts on July 13! Start writing now so you can post your story when the Story thread opens.
Can you top all other worst summer job stories with one of your own? Have you ever thought about what summer job you would hate to have? Share a fictional or completely true worst summer job tale for your chance to win a $100 Amazon gift card!
Stay tuned for the Story thread to open in the Battle of Words forum on July 13. You'll find the rules and instructions in the forum.
Good luck to all!
Image credit: daveynin