Drabbles Extremely Short Story Contest Underway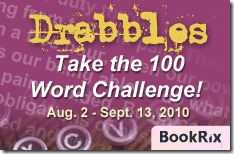 Drabbles are extremely short stories of exactly 100 words. The challenge is fitting in all the components of a story within a mere 100 words. It's no easy feat, but it's a challenge worthy of you all!
For this writing contest, all genres are welcome! Each book must have 3 drabbles stories in it. The limit is on the word count so make sure to check your work before you enter it. You may enter more than one book in the contest, but an author can only have one book in the top 10.
Of course, we have wonderful prizes to give out: $600 for first place; $400 for second place; and $200 for third place.
Timeline:
Submissions & Community Voting – August 2, 2010, to September 13, 2010
Jury Voting – September 13, 2010, to September 27, 2010
Not ready to join in? You can still help your fellow BookRixers by reading their contest books and voting for your favorite stories. Our readers choose the top 10 stories, which then will be reviewed by our independent jury.
In addition, we will have a certain number of wildcards in this contest. That means that not only the top 10 stories with the highest amount of votes will be given to the jury, but also other good work (without as many votes as the top 10) will go to the jury.
You also could win prizes for voting — when you vote, you enter into a raffle to win one of 10 Amazon gift cards worth $20.
One Response to Drabbles Extremely Short Story Contest Underway