Marketing Tip: Tweet Your Book (and We'll Help)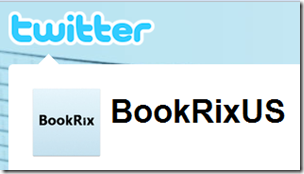 Are you on Twitter yet? Are you using it to promote your book(s)? We've been getting pretty active there, connecting with BookRix authors and readers, sharing little bits of information, quick tips, fun stuff, etc., that's too short for the blog.
If you're on Twitter, here are a few ways you can connect with us, and we'll even help you promote your book.
Follow us at BookRixUS.
Follow our BookRix authors list.
If you're an author, send us a message that you'd like to be added to that list.
Tweet about your book. Be sure to actually say something about it, not just post the link. Also, please use a URL shortener (we recommend bit.ly, but there are literally hundreds of them), as our URLs are kind of long-ish. If you do actually say something about it, we'll try to re-tweet you at least once. We regularly check for mentions of BookRix and links to our site – it's done by humans, so it may take a couple of days and occasionally we may miss one or two.