Every year, the last week of September is celebrated as Banned Books Week – a time to call attention to censorship efforts, both around the world and in the U.S. Here are a few resources to get you started:
For a complete list of challenged and banned books please visit www.ala.org/bbooks. You may also visit BannedBooksWeek.org, become a fan on Facebook or follow the ALA Office for Intellectual Freedom at @oif on Twitter (hash tag #bannedbooksweek) to learn more.
The Curse of the Pirates writing contest is already under way, but you can give your book a leg up…with its curb appeal!
Our community manager, Ayelet, just posted a tutorial on how to change fonts (into piratesque ones) and add a pirate-inspired cover.
In conjunction with our Frightening Fiction writing contest, which is now underway, I thought I'd share some videos on horror writing. Today, the king of horror writing, Stephen King: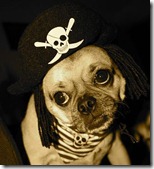 Aye, so you need some help writin' like a pirate for the Curse o' the Pirates Contest? You don't have t' write like a pirate, o' course, but if you need a little help with the dialog, you might check out the Pirate Translator.
And in case you're wonderin' what kind o' results you'll get, this whole durn blog post has been run through it.
Ye'll ne'er get me buried booty!
Image credit: amy_b