Curse o' the Pirates Writing Contest, Arrr!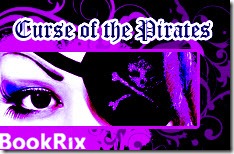 Arrrr… yo hoooo, it's a pirate's life for me! Ships laden with treasure chests and loot, swash-buckling pirates, parrots, wenches and exaggerated tall tales … if this gets ye writers mind racing, set ye sails for the BookRix Curse of the Pirates free writing contest!
Between September 22 and October 6, submit and vote for pirate-related short stories in the Curse of the Pirates contest!
The prize for the winner as voted by the community is a $50 Amazon gift card and a pirate-astic t-shirt from Threadless!
Dates:
Submissions period – September 22, 2010, to October 6, 2010
Community Voting period – September 22, 2010, to October 6, 2010
The contest starts on September 22, 2010. Authors must register their stories for the competition by October 6, 2010, 12 pm (EST) / 9 am (PST)/ 11 pm (GMT). To enter, you must write a pirate-related short story, upload it to BookRix and enter it into the contest.
Readers can vote for their favorite contest books until October 6, 2010, 12 pm (EST) / 9 am (PST) / 11 pm (GMT). All winners will be announced on or before October 12, 2010.
Voter Appreciation
If writing about scuttling, stealing and pirating isn't your thing, no problem! You can still help ye fellow BookRixers by reading contest books and voting for ye favorite stories. We rely on members to vote for their favorite pirate short story so make sure to read, vote and recommend your favorite contest book to other members!
You also could win a prize for voting – when you vote, you automatically enter into a raffle to win one of five Amazon gift cards worth $20!