Write Like a Pirate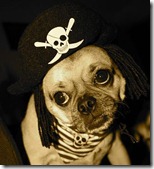 Aye, so you need some help writin' like a pirate for the Curse o' the Pirates Contest? You don't have t' write like a pirate, o' course, but if you need a little help with the dialog, you might check out the Pirate Translator.
And in case you're wonderin' what kind o' results you'll get, this whole durn blog post has been run through it.
Ye'll ne'er get me buried booty!
Image credit: amy_b