Business and the E-Reader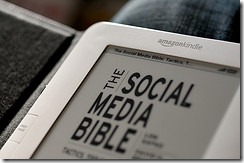 As E-readers like the Amazon Kindle and Barnes & Noble Nook become more commonplace in the general populace it's only a matter of time before businesses see the advantage of using E-readers in the workplace. The use of an e-book in place of manuals that take up several rows on a shelf, or bulky files with contracts, or other reference books would assist businesses in "greening" up their offices. This could save space for other materials and tools, or, possibly eliminate file rooms and cabinets entirely.
The ability to take manuals, contracts, or other reference materials in an easily portable eReader would enable employees to perform their duties quickly and provide instantaneous information to clients. In A Business Case for the Kindle (and Other E-Readers, Dave Johnson summarizes Julie Sartain's PC World article on the reasons why businesses should consider using E-readers and e-books:
They're the right size. If employees are already trying to read stuff electronically, laptops and netbooks are bulky and clumsy. Phones are too small. Likewise, 800-page reference manuals are equally cumbersome. E-readers are just right.

They're affordable. Not only are the cost of the devices plummeting (both the Kindle and Nook have hit $150), but e-books are around $10 each. Paper versions of textbooks, tech manuals, and reference books are very costly, suggesting that you'll see an ROI after buying just a handful of electronic books.

E-books are cheaper to distribute. Especially for internally produced documentation and literature, it's already cheaper to distribute documents on e-readers than to print, bind, and ship traditional paper.

Updates are easy. When your books and other documents are software, shipping updates and corrections is virtually free — especially compared to printing and distributing documents on paper.
The above are all valid reasons and, as mobile readers and e-books continue to expand in the marketplace, it's very likely that businesses will find ways to incorporate e-books into business policies and procedures, and determine additional ways to use E-readers for everyday use. It will be much easier for a company to download its policies, procedures, reference materials, contract information, as well as other data onto an E-reader than to continue to keep copious amounts of files in dusty file rooms. The use of E-readers in business can be an excellent way for businesses to manage costs and save money.
Image credit: [cipher]