iPod Good for Amazon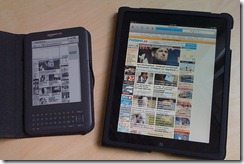 A recent L.A. Times blog by Alex Pham touted "Apple's iPad is good for Amazon's Kindle." Most look at the Kindle as being solely tied to Amazon; however, this is not necessarily so. Amazon has applications that allow it's Kindle eReader to be uploaded onto almost any digital device (PC's, Mac's, iPhone, iPad, Droids, and BlackBerry). The day of sole provider ebooks looks to be ended. Pham further states:
When Apple unveiled its iPad in January with its full-color high-resolution glory, many assumed it would be end of story for Amazon.com's Kindle book store and its black-and-white reader.

Turns out the iPad has actually helped Amazon. Not only are sales of the Kindle device expected to grow 140% this year to nearly 5 million units from 2009, but digital book sales via the Kindle store are on track to grow 195% to $701 million in 2010, according to Cowen and Co., which released a report Monday on the digital book market.

Greasing those book sales are Amazon's Kindle app for iPhone and iPad, which are the digital equivalent of little storefronts that let customers browse, buy and read digital books on those devices. In other words, you don't have to have a Kindle device to buy a Kindle book.

In fact, one in five people who buy digital books from the Kindle store don't own a Kindle device, according to Cowen's survey.

The "iPad is not having a negative impact on Kindle device or e-book sales," according to the report, written by Cowen analysts Jim Friedland and Kevin Kopelman. "In fact, we think the adoption of tablets will boost Kindle e-book sales."
As noted in the Cowen report, many iPad owners buy their ebooks from Apple, but the survey showed that they also buy ebooks from Amazon as well. Although both Amazon and Apple eBooks can only be read on their own devices, Amazon has found a way to get its application uploaded and spread the sale of its own ebooks. "For 2010, Cowan estimates Apple will have 5% of the market for digital books, compared with Amazon, which is projected to have 76% of the market. But by 2015, Cowan estimates Amazon will have 51% of the market and Apple with 16%."
It appears that Amazon is doing everything possible to spread Kindle eReaders as many places as possible. It will be interesting to see what happens next as more devices come on the market, and Apple steps up in this "ebook war."
Image: Priit Tammets
One Response to iPod Good for Amazon