Self-Publishing – Publishers Beware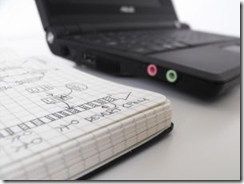 From Bnet:
"Management guru author Seth Godin has ditched his publisher, Portfolio (a Penguin Group imprint), after a dozen books with the company. Usually when an author leaves, it's for another publisher that promises more money, better editing, or whatever it takes to snag a big name. But Godin is turning his back completely on traditional publishing, creating e-books and print-on-demand paper titles and selling directly to his fans.

Authors have long complained about publishers — low advances, slow action, the amount of promotion they expect writers to do. But some big names are pulling the ripcords and either striking out into independent waters or making a clean break, all though e-books.

It's a huge threat to publishers, which depend both on blockbuster authors that bring in cash and negotiating leverage with resellers and backlist books that sell in small or modest amounts, year in and year out. If those people can walk away, the publishing industry is in real trouble. And the twist is that authors who develop regular contact with their audiences might be able to leave such resellers as Amazon (AMZN), Barnes & Noble (BKS), Borders (BGP), and Apple (AAPL) behind. Talk about the potential to turn an entire industry upside down.
Self-publishing is now not only the route taken by freshmen writers trying to get an audience, but it is also a route that some well-established authors are taking.
Why go the publisher route? Publishers are providing less of a service for writers, and writers are being called upon to take lower advances, and do more themselves. Most writers have their own website, and, with a bit of extra effort, self-publishing becomes an easy step to take.
Although blogs by established writers are a good format for contact with their own readers and fans, it's not all sunshine and roses for the writer trying to get a foothold. There is a lot to be said for the established publicity and marketing resources, however, publishers need to take notice.
So, will publishing companies cease to exist? Probably not, but this is a harbinger of what's coming next. eBooks are here and are not going away. The ways to obtain eBooks are getting easier and less proprietary. Publishing may be one of the next walls to scale, and the publishing companies should get prepared. In today's world, change is the only constant.
One Response to Self-Publishing – Publishers Beware