BookRix Provides Novel Opportunity for Authors Online
Published
November 4th, 2010
|
By
BookRix
BookRix Provides Novel Opportunity for Free Easy Exposure for Authors Online!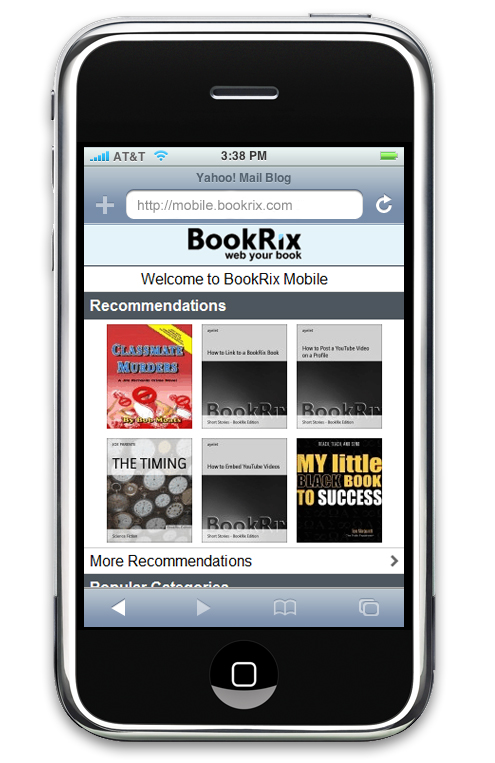 BookRix (www.BookRix.com), an online community connecting authors, readers and publishers makes it easier than ever for authors to promote themselves online for free.  Authors and writers will find a wide variety of useful resources and tools to easily upload their written works into the more than 10,000 titles currently listed on www.BookRix.com with free editorial and design software supporting many file types.
Once your "book" is uploaded, it's comfortably read with ViewRix, a state of the art book viewing software that's easy to link to from an email and share through Facebook, Twitter, Stumble Upon, Digg and Delicious as well as be embedded into a blog or website for sharing – much like a YouTube video.
BookRix can be compared to how musicians use MySpace as a site to connect with potential audience members and fans that they otherwise would not have had free promotional access to with their creative works.  Authors on BookRix control whether they share all, parts, or one section of their works depending on how much they want to offer publicly and whether their works are read only online with ViewRix, or set to be an eReader download.
Large numbers of potential readers are now only a few clicks away, with nearly 140,000 registered members as of October on BookRix.com who may be willing to read, review and provide feedback for written material – not to mention thousands of readers who visit the site anonymously each month.
Award Winning Professional Speaker and Best Selling Author, Jim Cathcart is now part of the online literary community and has made three of his books available on BookRix, including Relationship Selling (Spanish) and Win Through Relationships (Audio). In the first month of being available, Cathcart's audio book had been heard more than 230 times – connecting with new audience members who otherwise may not have ever come across his materials.
In 2000, noted bestselling author Seth Godin allowed readers the chance to see his book Unleashing The IdeaVirus for free online for an entire year before it hit bookshelves.  This alternative method for reaching his audience resulted in increased sales as many fans had shared his work virally online – expanding his name across the web organically and effectively with a simple link to his eBook.
The BookRix online community is comprised of a wide variety of users and groups from vampire lovers and gothic fans, poets and foodies, to accomplished writers wanting to perfect their style or discuss all things editorial.  BookRix actually hosts writing contests that pay generous cash prizes with an official line-up of qualified judges that review the top choices voted by BookRix members.
BookRix users owning an iPad, smartphone or a similar mobile eReading device also have the ability to download eBooks from the BookRix mobile site, http://mobile.bookrix.com. The BookRix mobile website allows for browsing of books from 55 different literary categories providing access to mobile readers, bringing yet another reason for potential author success through effective free promotion with BookRix.
About BookRix:
BookRix is an online eBook community of members who use the site to read and create eBooks, share work, ask for feedback and promote their published work to other members. BookRix makes it possible to read free books online. Publishing houses also can use the site to promote new releases and authors, stay in touch with fans and communicate news. For more information on BookRix, visit the FAQ or About pages on www.BookRix.com.
One Response to BookRix Provides Novel Opportunity for Authors Online