BookRix Launches SocialBook©
Published
February 22nd, 2011
|
By
BookRix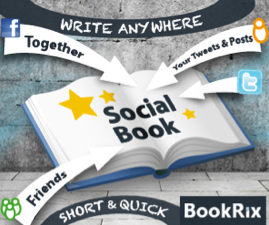 As many of our community members already know, BookRix recently launched it's beta phase for our newly introduced social media application, SocialBook©, an online feature that allows writers anywhere in the world to collaboratively participate in building an e-book from either their Facebook, Twitter or BookRix profiles, simply with connecting their accounts. The free-to-use SocialBook© application sets a new standard in collaborative writing and offers limitless opportunities and uses for online content, in a format that can be saved, stored, shared and even embedded like a YouTube video, with real-time updates and no limit on the number of co-authors.
The BookRix SocialBook© app now gives social media users an easy way to collect posts, tweets, stories, conversations and ideas that previously would have disappeared into digital dust. Writing on the internet has never been this social before!
Plus, with the ViewRix software features on BookRix, readers can comfortably read SocialBooks© like any other book on BookRix, with the same fun built-in sharing and usability tools to comment, forward or rate the title.
Social writing and content archiving is now truly an option with the SocialBook© application. By using any specified topic #hashtag, all participating #hashtag posts, tweets or comments by invited online users will be fed directly into a specific SocialBook©, with automatic updates of content every 15 minutes. Love the idea of saving every post? Go unfiltered and set-up the SocialBook© app as a collection tool for all posts or tweets by simply choosing not to set a specified hashtag – either way works!
A great feature that users should know about is that SocialBook© authors can control who can participate, how their SocialBook© is seen, whether it's only readable online or as an e-book download, and whether it can be embedded or not. BookRix users owning an iPad, smartphone or a similar mobile eReading device also have the ability to download SocialBooks© from the BookRix mobile site as well.
There are endless topics where the SocialBook© might be the perfect way to save and share collaborative writing efforts including Group Writing, News and Events, Weekly #hashtag Chats, Daily Tips, Favorite Quotes, Haiku Poems and much more. Check out the SocialBooks© the BookRix community has already come up with. What are some ideas you might have for a SocialBook©? Join us and Socialize Your Voice by writing in a SocialBook© today!
Ready to get started? Check out our overview SocialBook© video tutorial here, or our tutorial snippets on the BookRix YouTube Channel to learn more about this fun new feature from BookRix.