Earth Day: Are eBooks Eco-Friendlier Than Printed Books…and How Will the World End?
In honor of the 41st annual worldwide celebration of Earth Day, we intended to sing the praises of e-book publishing and explain why it is more environmentally responsible than traditional book printing. After all, books use tons of paper, so digital content saves trees…right?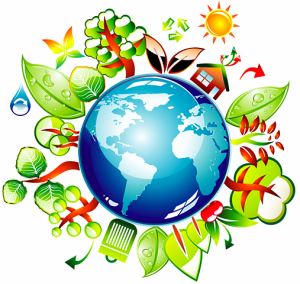 It turns out that the issue is not quite so simple. Once you consider energy usage and carbon footprints, things can get way more complicated.
On the one hand, a blog post at Self-Publishing Review presumes that ebooks are more environmentally responsible: "…the lower carbon footprint for ebooks is an enormously important component…even though ebooks may not be aesthetically preferable to printed books…some of these aesthetic conveniences may need to be pushed aside in order to—literally—save the planet."
On the other hand, as the folks at TreeHugger suggest, there are more sustainable ways to print books using recycled, chlorine-free paper and other eco-friendlier options, which are being increasingly adopted. "…If a publisher sells a million copies of an average 250-page book, it takes 12,000 trees to produce books for this one title. Alternatively, if the publisher chooses to print the books on 100% post- consumer waste recycled paper, no trees are cut."
Besides the paper itself, eco-factors to consider include the energy used for printing and fuel and emissions for shipping quantities of books. What's more, pulp and paper mills are among the top greenhouse gas producers. Likewise, the carbon footprint of electronic readers like the Kindle and iPad (the top two e-reader devices on the market) must also be considered, including production, life-cycle, user behavior, cross-functionality and disposal issues. This EcoLibris article links to several in-depth items, including a recent report by the Green Press Initiative, "Environmental Impacts of E-Books", with rather inconclusive results, due to the variability of the above factors affecting e-readers.
Meanwhile, Sustainablog lauds small e-book publisher EcoBrain's policy of "only selling ebooks in PDF format because of their cross-platform functionality," which makes non-proprietary materials readable on the widest range of devices.
In the end, as with many questions of sustainability, there are no easy answers to the question "paper or ebook?" But we privately believe ebooks have the edge, although with the introduction of Print on Demand for publishers, books don't get mass produced until they are purchased, which is a completely better position for the planet as well: fewer wasted books. How about you – what do you think about it?
We also thought Earth Day was the perfect time to launch the latest BookRix free writing contest. Do you think the world is more likely to end through a global-warming, environmentally-driven catastrophe, a nuclear Armageddon, a zombie epidemic or perhaps a more personal, individual apocalypse?

Tell us how the world might end at some point in your opinion in our BookRix End of the World Writing Contest, from April 22 to June 10, 2011! You could win a fabulous cash prize and gain international recognition…so start dreaming and writing today!
2 Responses to Earth Day: Are eBooks Eco-Friendlier Than Printed Books…and How Will the World End?