Close Encounters of the Literary Kind: A Series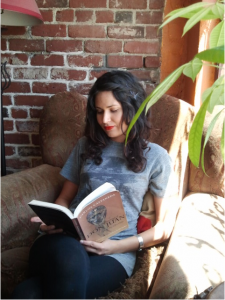 While waiting in line at Viento y Agua Coffee house on 4th and Termino this afternoon, I gazed at the small shelf next to the register that housed borrowed books. My eyes immediately fell on the large bold text "JANE". Prior to its demise in 2007, I had been a huge fan of this magazine and maintained a subscription during my roommate days in Costa Mesa, Ca. I picked up the issue marked September, 1998 and Natalie Portman stared back at me. One of my favorite recurring articles was 'The Same 5 Questions We Always Ask'. I flipped through the pages and felt as though I was stepping back in time. It got me thinking. Having a recurring interview on our BookRix blog could be fun! As this epiphany hit me, I glanced around the coffee shop and saw a sea of material! What do people do at coffee shops? Sure they come for a latte or an espresso, but they also stay to read. One girl in particular caught my eye.
Her name is Nadia Bec and she's been living in Los Angeles County for the past year with her boyfriend Jean. When Jean moved to California from Paris (of course he would be French) for an editing job, he wasn't sure which city he wanted to settle down in. While visiting a friend in the city, he made a stop at Agua y Viento for an afternoon coffee and saw Nadia in her usual corner reading. They've been together ever since. I took note of two important things: 1.) Apparently stuff like this doesn't only happen in the movies, and 2.) I need to hang out in coffee shops more often if I want to meet the man of my dreams.
1. What book has been the biggest influence in your life?
Khalil Gibran "The Prophet" I think this book is basically a guide on how to live your life. Now if i could only follow it!
2. What author and/or character do you identify with most?
I think the character I identified the most with was Holden Caulfield from "The Catcher and the Rye" by J.D. Salinger. Angst, alienation and rebellion are not only adolescent issues. I can relate to the struggle he has within his own psyche. That wanting to connect with others on an adult level while a part of me wants to reject the adult world as being "phony".
3. What do you think happens to you when you die?
I believe in a sort of reincarnation after death. I feel you keep coming back in other forms until you learn the life lessons you missed in your previous existence. Essentially until you reach enlightenment.
4. Have you ever penned anything yourself? And if so what's the recurring theme?
Yes i write all the time. Mostly poetry. The recurring theme seems to be the struggle to attain self fulfillment. I like to go back and reread some of my writings from my high school years. In some ways it allows me to see how far I've come and in other ways its a bit discerning when i notice I'm still dealing with some of the same issues. Either way it will make a great memoir some day:)
5. If you had to re-live your life as a character in a book, what book/character would it be?
I think i would choose to back as Jack Kerouac in "On the road". Spontaneous road trips , life without boundaries. Who wouldn't want to be that character?
2 Responses to Close Encounters of the Literary Kind: A Series