Don't Quit Your Day Job – At Least Not Yet.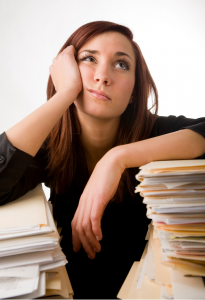 Everyone has something they're passionate about. It might take some folks longer than others to locate or ignite it within themselves, but it's there. For an aspiring writer, punching in and out of work can be depressing. Sure it pays your bills and for that you're grateful – but what happens when your "temporary" 9 to 5 acts as a road block to your passion? Members within our community at BookRix can attest to one thing. Reading and writing is their life. So what's an author to do when their mediocre "just until I catch my big break" gig digs into their inspirational writing time? It's a familiar feeling. An idea hits you, and immediately the writer's block you've been carrying around on your back like a pack mule has been lifted. YES! The feeling is so joyous that you let out a triumphant "Whoo!" or punch the air (we usually perform a mini victory dance, ourselves). But then your desk phone rings and you're shot back to reality. It's your boss asking for that TPS report that was due this morning. Ugh.
When life hits you with monotony, don't let it take you down. The pendulum swings both ways, and you'll have your moment to shine. Remember that along with these tips below:
Take time for you - You'd be surprised how many people work through their breaks and/or lunches. Not only is this illegal in some states, but you're frying your brain. Step away from the desk! Use that time to focus on things that inspire you. Whether it's a podcast, book, playlist, magazine, going for a walk  - doesn't matter. Give your mind the opportunity to breathe.
Be Prepared – No one knows when their million dollar idea is going to hit. But when it does, you'll want to be ready. Keep a pen and notepad handy or a voice recorder. Few things are worse than chasing a thought after its gone.
Don't throw in the towel – No one likes a quitter. So remind yourself why you're doing what you're doing. A great success story to reference is 26 year old Amanda Hocking. Not only did she complete her book series, but she published them herself. A true inspiration to independent writers. Way to go, Amanda!
Pat yourself on the back – You may not be selling books off the shelf at rapid speed (yet), but you've got a goal in sight and you're seeing it through – one sentence at a time. Completing your book might be the big picture goal, but don't lose sight of the steps taken to get you there. Acknowledge the progress you've made thus far and give yourself some credit for pursuing your passion.
"Keep away from people who try to belittle your ambitions. Small people always do that, but the really great make you feel that you, too, can become great." – Mark Twain