Coffee Shop Encounters: Part Deux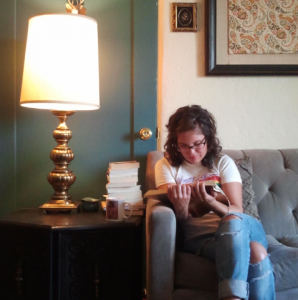 Typically I make breakfast at home. It's fast, its cheap, and on most days it's healthy. But some mornings I wake up craving something crafted by hands other than my own. Today in particular, I was really in the mood for an almond latte and a veggie breakfast panini from Portfolio Coffee House. With our blog series in mind (Coffee Shop Encounters), I made a point to survey the scene and see what Portfolio had to offer. I met Sarah Korell on my fourth bite…. she knocked over my latte with her purse. I told her I'd buy my replacement drink if she agreed to be interviewed.
1. What book has been the biggest influence in your life?
"I know why the cage bird sings" by Maya Angelou. It's basically her autobiography. The book shows  how the pressures of living in a thoroughly racist society have profoundly shaped the character of her family members and she strives to surmount them. It also documents her victories and successes. It taught me  that no matter what circumstances you come from, we ultimately have the power to shape our own future.
2. What author and/or character do you identify with most?
The author I identify most with is Jane Austen. I feel I have this hopeless romantic side of me yet I still have this ever present stubborn independent side, which is usually a characteristic in the female characters of her books.
3. What do you think happens to you when you die?
I believe we are all energy and after we leave our bodies. When we "die" we become one with the highest energy force or higher power…..and no I don't wear crystals around my neck. Haha.
4. Have you ever penned anything yourself? And if so what's the recurring theme?
I mostly just  write journal entries daily. The recurring theme seems to be  a series of bad dates and short lived relationships.
5. If you had to re-live your life as a character in a book, what book/character would it be?
If I could come back as a character in a book it would be Algrenon  Moncrieff  from "The Importance of Being Earnest". Algrenon's character is brilliant, witty, selfish, amoral. He  invents a fictional friend, "Bunbury,"  whose frequent sudden relapses allow Algernon to wriggle out of unpleasant or dull social obligations. Therefore he basically gets to live a life of of leisure.
Sarah was such a stand-up gal. Not only did she let me interview her, but she also insisted on buying me another drink. Very classy!
Switching gears for a moment – Have you ever wondered who's running the show at BookRix? We're pulling back the curtain (week by week) and introducing you to the folks that make it all possible: http://www.bookrix.com/_groupforum-en-behind-the-scenes-at-bookrix-who-is-running-the-show.html Check it out and let us know what you think!