Hold on to your Vonegut! Banning Books is "IN" This Year.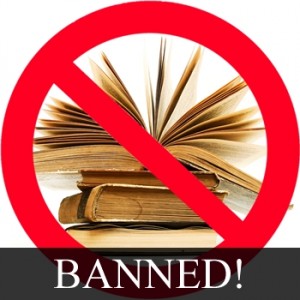 When the Huffington Post put together a list of books banned in America, it got me thinking (and laughing) at the irony of things. We live in a country where kids obsess over Jersey Shore and Teen Mom. They'd rather keep up with the Kardashians than hang out at the library. Let's be honest, not all kids are avid readers. We love it when they are (truly we do), but the dreaded boob tube gets more action than Cliff's Notes these days and frankly, it's a bit depressing. So when word got out that Kurt Vonnegut's literary classic Slaughterhouse Five had been banned at a high school in Missouri, we had to scratch our heads. Why? Wesley Scroggins, a professor at Missouri State University, spearheaded the book ban when he wrote a column for a local paper last year. The reason behind the ban? Two words: "Profane language". Perhaps he hasn't listened to the enriched vocabulary of a high school student lately.
In school, history teachers tell tales of woe surrounding infringement of freedom and continually point out how far we've come and how much farther we need to go. The hypocrisy of preaching freedom while banning books is laughable. When books are banned in our high schools, aren't we taking a giant step backwards? The same school that banned Slaughterhouse Five also banned Twenty Boy Summer by Sarah Ockler. The material was said to be "sensationalizing sexual promiscuity" and "shocking". Perhaps the folks in charge should tune into Gossip Girl on the CW, as I feel their perception of teens and sexuality might be a bit dated since Anne of Green Gables wrapped in 1985. And while we're on the topic of bans, what about 'Norwegian Wood' by Murakami? Not only were millions of copies sold but it also received rave reviews from the New York Times and the Chicago Tribune. Unfortunately that didn't mean anything to the Monroe Township School District in New Jersey, as they removed it from their 10th grade reading list this year due to a "graphic… lesbian sex scene".  What are the chances that this whole book banning fever is an elaborate reverse psychology scheme? Yea, we didn't think so either. Shame – they could've been onto something!
The act of banning a book, especially the ones listed above, rubs us (and many others) the wrong way. But you don't have to take it sitting down! Banned Books Week celebrates freedom and artistic expression. Show your support with readers from all over the country as they celebrate Banned Books Week 2011 from September 24th – October 1st. Let's show those high school kids what it's like to fight for something you believe in.
One Response to Hold on to your Vonegut! Banning Books is "IN" This Year.