Close Encounters of the Literary Kind: Third Times a Charm (and he's a real charmer)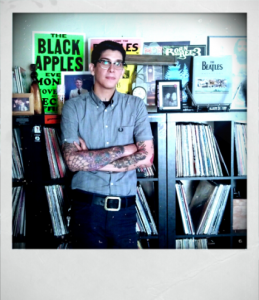 I was introduced to Frankie a little over 4 years ago when I first moved to Long Beach. Our paths don't cross that often, but I'm always pleased when they do. My friends and I attend the once a month 60's inspired dance event he hosts (The Secret Affair) at a nearby bar where he showcases classic and rare vinyl finds. In addition to his endless record collection, Frankie is also a long time book lover and avid reader. So when we bumped into one another at Sipology on Broadway and Temple, my mind immediately flashed to our blog series. Sure, I normally pick a random person, but I didn't feel I was cheating since a.) We were at a coffee shop, and b.) He had three books tucked under his arm! With our to-go cups in hand, we snagged a table outside and played catch-up. Frankie recently moved to an quaint 2 bedroom town-home three blocks south with his girlfriend Margeaux and their two dogs. He invited me back so I could scope out his new pad and he could jot down the answers the 'same five questions I always ask'.
1. What book has been the biggest influence in your life?
Marcel Proust " Swann's Way" because it's a great balance between reason and sensibility. I believe in the philosophical example he shows that time was not necessarily a linear, clock-like, measure of fixed and unchangeable moments. Instead, he believed that time, or duration as he liked to call it, involved a "flowing together" of different moments and experiences so that one individual point in time was indistinguishable from any other.
2. What author and/or character do you identify with most?
The character/book i identify most with is The Seducer's Diary by Søren Kierkegaard because it's the most positive outlook I've ever read on philosophy. Kierkegaard argues that illness is not the root of all evil and that boredom is. Its boredom that causes destruction. I completely relate to this.
3. What do you think happens to you when you die?
I believe nothing happens after you die. Decomposition is what happens after death and that is all.
4. Have you ever penned anything yourself? And if so what's the recurring theme?
Yes, I mostly write song lyrics. The recurring theme is the universe in terms of time and space. Also the absurdity and nonsense of the things we put emphasis on as humanity.
5. If you had to re-live your life as a character in a book, what book/character would it be?
I would come back as Frodo  from The Lord of the Rings by J.R.R. Tolkien, because he knows what he wants and grows through the journey of attaining his goal.
Thanks, Frankie! Your apartment is awesome. Your dogs are adorable. And you're still rad as ever. See you at The Secret Affair -