Close Encounters of the Literary Kind: Part 5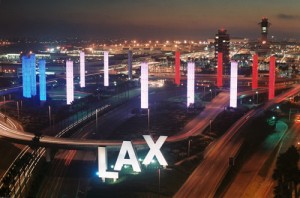 If any of you have ever frequented LAX airport, you'll understand my pain. It's crowded, it's hot (at least it is every time I've been there), kids are screaming, and the overhead speakers shouting out flight updates make my brain hurt. Needless to say, when my friend asked if I could pick him up from the airport I wasn't thrilled at the opportunity, but agreed because he's awesome and would do it for me. As luck would have it, his flight was delayed 40 minutes due to bad weather. Yay for me.
$7 bought me a snack sized bag of trailmix and a Reeses peanut butter cup. Walking out of the store, I saw a tall, white haired woman in uniform take a seat in the only secluded area of the airport and I decided this was my best bet. She pulled a Kindle out of her bag, put on her glasses, and let out a sigh. Five seconds later, she returned the Kindle to her bag. I guess I was staring because she met my gaze and clarified: "dead battery". Her tone was so full of disappointment that I couldn't bring myself to pull the Bret Easton Ellis book out of my bag and crack open the first chapter. Instead I offered up my unopened Reeses and struck up a conversation with Rachel. (She wouldn't agree to a photo)
1. What book has been the biggest influence in your life?
Eloise. Is that odd? When I first read it with my mother, we both laughed ourselves silly. Over the years, I came to realize that my mom bought the book for me not just because it was about a wonderfully imaginative free spirited girl, but because she hoped it would instill in me a belief that growing older doesn't have to be a bore. Be a character and make no apologies.
2. What author and/or character do you identify with most?
Gloria Steinem. I can't begin to explain why. Perhaps I see her as "Eloise" all grown up. I'm not sure
3. What do you think happens to you when you die?
[chuckles] That's a pretty heavy question to ask someone you've just met. I'm quite certain that when I die, I'll cease to exist. No frills there.
4. Have you ever penned anything yourself? And if so what's the recurring theme?
I've written a few short stories. I rarely write about the same subject, but the theme is consistent. Irony is always around you.
5. If you had to re-live your life as a character in a book, what book/character would it be?
Lotty Wilkins in "The Enchanted April" by Elizabeth Von Arnim