Pop Up Library – Who Would've Thought?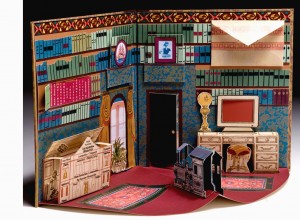 I've been back and forth from Orange County to Los Angeles County this week and have witnessed various "Occupy (insert city name here)" groups setting up shop on college campuses, in parks, etc. Seeing people give up their personal time on week nights and weekends to support a cause has always fascinated me. I've never thought of myself as a terrible person (at least I hope I'm not), but I'm kind of selfish with my "free" time. So with that in mind, I tip my hat to all the dedicated volunteers, selflessly standing up for a cause they believe in.
My fascination continued when I read about the closure of the Preston Library in Wembely, London. Yea, yea, I know. Other libraries are closing too. But this one struck a chord with me.  Locals have joined forces in an effort to preserve what once was by erecting a "pop-up" library in its place. Geraldine Cooke is one of the many volunteers working hard to maintain their makeshift stand. Her parents campaigned to establish the Preston Library back in 1937, so it seemed only fitting for her to follow in their passionate footsteps. The stand is nothing fancy to look at, but patrons don't seem to mind. Books are being donated by the stack, and volunteers are making themselves available to assist wherever they can.
About thirty minutes North West of Wembely, another stand alone library popped up. This one took up shop across from a local Starbucks near St. Paul's Cathedral. Ashley Bignall is a care worker in south London who saw a need and made a move. His pop-up library "Starbooks" doesn't offer desks, table lamps or free internet, but the people visiting his stand aren't bothered. As with Wembely, donations are in abundance and patrons are in good spirits. We sure hope it stays that way.