The Internet Can Be a Cesspool of Awesome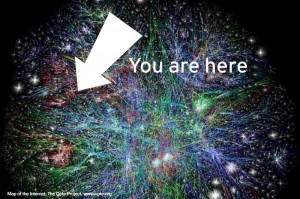 Every day, I comb the internet searching for random and inspirational things. Granted, my search isn't always successful. But in-between I find funny videos, ironic art, sarcastic comments, and a million cute (insert animal here) photos that somehow pull my workday together.
This week I clicked on a link, that directed me to a blog, that lead me to a photo, that brought me to a comment, that made me challenge a viewpoint, which inspired me to Google a quote (that I misspelled), causing inaccurate search results. It was then that I saw "Ze Frank" as the first populated result and thought, 'what the heck?' and clicked on his website. Maybe you've heard of him, maybe you haven't. Prior to my Google mishap, I hadn't (a terrible shame, I know!). Yet I was immediately drawn to his creativity and the uniqueness of involving other people in his projects. Kind of like Post Secret, minus the anonymity.
The first project that peaked my interest was "Like Mom, Like Dad", where people recreate old photos of their parents. What an awesome idea! I clicked around some more on his site and found the 'letter project' that he's been working on since 2001. (Send him a photo for god's sake! It took me 1 minute on my phone.) Ze is also working on "Young Me, Now Me", which he's turning into a book. The idea behind it is pretty self explanatory. You simply grab an old photo of yourself (or a family member – whatevs), and then reproduce the image (same pose, clothes, setting, etc.) as you are now. If you want to be a part of his book, you can submit your photos here. How cool is that?
The internet is  filled to the brim with interesting ideas and creative work. If you find something that inspires you, or catches your attention – share it with us on Facebook or Twitter. When we find a gem, we enjoy passing it on. And we'd love for you to do the same!