Close Encounters of the Literary Kind: Part 7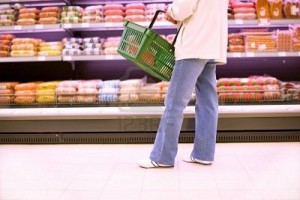 If any of you hosted Thanksgiving this year for the first time, I feel your pain. At the last minute, my mom caught a nasty flu, so I offered to take over. Besides the initial anxiety, I was excited for the challenge. That was Monday. By Wednesday I had been to 5 grocery stores (French cut green beans are impossible to find!), 1 party supply store (I needed a table big enough to fit seat 8 ) and 2 miscellaneous household stores (festive decorations, pots and pans, etc). In two days I managed to spend over $250 and I was exhausted.
I met Brooke standing in line at the grocery store Thanksgiving Day. Both of us were buying last minute items. I needed salt, Brooke was grabbing cranberry sauce, and we were stuck in a line from hell. Through small talk, I learned that she was currently writing her first book. Awesome! Over the next 25 minutes, we chatted and she agreed to participate in my blog (despite being camera shy).
1. What book has been the biggest influence in your life?
The Bible. Which may or may not be ironic, as I'm now an atheist. I'm just amazed by its folklore. It didn't necessarily inspire me to be an atheist, but it did show me a good example of how people can just make up a system of beliefs. Society could just as easily be worshiping Frith like the rabbits if they were taught Watership Down instead of the Bible.
2. What author and/or character do you identify with most?
There's a book by Tanith Lee called Dark Dance which I've had a love/hate relationship with ever since I first read it. Much of this was because I loathed the protagonist, Rachaela, because of the passive, apathetic attitude she holds towards every aspect of her life. The story is heavy with an almost tangible depression, the prose dark and frank, yet so many of the motions she goes through are so utterly lacking in passion or feeling of any kind I hated her for being so uncaring. But now I identify with her in some way- unhappiness can sometimes make you feel the way Rachaela does.
3. What do you think happens to you when you die?
I take a spiritual and scientific approach. I feel we will exist in a spiritual form in another dimension. I hope so at least. If we go into nothingness, then life would seem unimportant. But if nothingness is what awaits us, than we can't really question life after we expire.
4. Have you ever penned anything yourself? And if so what's the recurring theme?
I have written a lot of short stories, but right now I am focusing on my first novel. I love the horror/gothic genre, but I also like romance. Currently I'm trying to mesh the two into one story. So far, it's working!
5. If you had to re-live your life as a character in a book, what book/character would it be?
Hester Prynne.  There are so many times I wanted to be inside her head and controlling her body so she could stand up for herself.  I imagine given the time and place – perhaps even my sense of modern feminism might not hold up – but I just hate how victimized she is.
One Response to Close Encounters of the Literary Kind: Part 7