It's No Fun To Be a Librarian Nowadays
As a kid I remember being shushed by librarians more than anything else, but as a teenager they proved extremely helpful when writing a paper or assisting with research. Thinking back, it's been well over a decade since I've asked a librarian for help on anything. Apparently, I'm not the only one who's been utilizing internet search engines in place of them. Shame on me.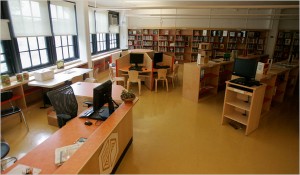 Recent figures compiled by the California Department of Education show an average loss of 100 librarians each year in the past two years. To cope with state budget cuts this year, both Los Angeles and Orange County school districts have cut librarian positions. As a result, librarians are being forced to divide their time between various campuses in an effort to keep the doors open. According to the state Department of Education, California ranks last in the country for its student-to-librarian ratio. It's depressing to think about, isn't it?
Find out what you can do locally to support your local library, as some may have volunteer opportunities for adults and teens. Next time you need to research a subject for school or are working on a writing project, take a break from Google! Hop in your car (or ride your bike – whatevs) and reach out to a librarian for help. Chances are you'll enjoy the human interaction and your brain will feel as though it received a work-out.  Not to mention it's a nice change of pace to talk with a human being vs. staring at a computer screen. In addition, you should see if your local library offers "Text a Librarian". I heard about this on the radio recently and I'm hoping we get something similar in LA county so I can try it out.
Bottom line – Librarians rock. Let's o our part to keep 'em around.
3 Responses to It's No Fun To Be a Librarian Nowadays