Close Encounters of the Literary Kind: The R. Lynn Edition!
With the release of Descendants (book 1 of The Descendants Saga series) this past Monday, Author R.Lynn has definitely had her hands full. Thankfully the commotion in her busy life didn't stop us from getting our virtual chit-chat on. Through the interview, it became very obvious to me why BookRix chose to back this quirky, redheaded, independent author. She shares a passion for making publishing accessible for everyone! And quite frankly, she rocks. But don't take my word for it, read through her interview below and see for yourself.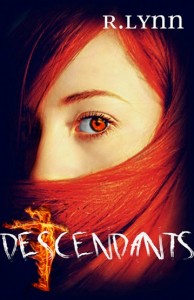 Where are you from? I'm from Victoria, BC, Canada- eh!
Where do you pull your inspiration from? What makes you happy/makes you tick? That's a tough question. But I guess when I see people doing good things in the world, or when I see people standing up for what is right, even though they know that others are going to be hard on them for it. I hope to be that brave one day too!
What book has been the biggest influence in your life? The Power of One by Bryce Courtney. It showed me that anyone has a voice in this world, no matter what their circumstances.
What author and/or character do you identify with most? Peekay!(The Power of One) No matter what life throws him he tries to find something positive. It's definitely how I try to live my life.
What do you enjoy doing most on your weekend? Writing, going for walks with my hubby, discovering indie bands, shopping (SHOES!), hanging with friends, chatting up my fans and writing!
We've got tons of strange habbits. What are yours?: I think it would be easier to tell you the non-strange habits I have! LOL- But yeah I guess my strangest one is an annoying squeaking sound I make when I'm thinking. Or, it could be how I talk to my dogs like they understand me. No it's definitely the way I try to mimic people's accents but all my attempts come across as Middle Eastern.
What do you think happens to you when you die? I believe in Heaven and I'd like to think I'd go there. It would be a shame to have nothing after death. Actually now that I think of it, that would be the worst practical joke ever.
Have you ever penned anything yourself? And if so what's the recurring theme? Oh my goodness have I? In the last year and six months I've written eight books. That's right, you heard me correctly. 8! It's funny really because I see two reoccurring themes in my books. 1. Appreciate what we take for granted. And 2. Love, and how that means so much more than we let it mean.
If you had to re-live your life as a character in a book, what book/character would it be? This is an unfair question to ask. Because I can think of like thousands. But I guess for today I'll settle on Anne from Anne of Green Gables!
Anything you'd like to add? Feel free. Yes. Thank you for taking the time to interview me. Love each other and stay well read. And I love my fans. That is all!
See? We told you she was rad. Also, check out the thumbnails below for R. Lynn's available and upcoming books!
THE DESCENDANTS, debut novel by Author R. Lynn: YA Book Trailer
One Response to Close Encounters of the Literary Kind: The R. Lynn Edition!