Close Encounters of the Literary Kind: Part 9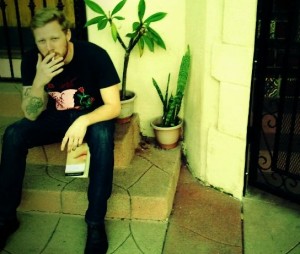 My landlord recently installed a front gate to my apartment building for, as he put it, "added security". Quite frankly it's been more of a curse than a blessing, as I've locked myself out numerous times. Apparently, I'm not the only one experiencing this pitfall.
Yesterday, I came home from the grocery store to find a guy sitting on the stairs outside the aforementioned gate, smoking, looking completely disgruntled. Through a semi-awkward introduction (awkward on my part, because I didn't want to let a stranger in the building), I learned that Kyle had moved in January 1st and his disgusted expression was the result of him being locked out for hour and 4 cigarettes. In his hand was a copy of Lolita by Nabokov. Finally! A cool neighbor I can swap books with.
The Same 5 Questions I Always Ask:
1. What book has been the biggest influence in your life?
Though the question is a difficult one, I have no other choice than to pick Ham on Rye by Charles Bukowski. I picked up the novel when I was young and impressionable, so it resonates a certain sense of nostalgia within me. The beauty of the story is that Bukowski sets up a timeline narrative of this Born-to-Lose Anti-hero, to the point where you understand why the character is so jaded and misanthropic in a humorous and sympathetic way. The cherry on top for Bukowski, is his brutally honest, misery ridden comfort found in the dark underbelly bars and alleyways of booze, boobs, and brawls. "You boys can keep your virgins, give me hot old women in high heels, with asses that forgot to get old."
2. What author and/or character do you identify with most?
Hemingway. His lust for life is appealing. I love the time periods he spanned – America seemed so romantically ideal.  He was a world traveler and spent time in France getting out of his head, going on benders with F. Scott Fitzgerald, which I'm sure were wonderful. His approach to the world and the way he lived… it seems so relatable and un-wasted.
3. What do you think happens to you when you die?
Its romantic to think and believe there is and would be something grand for the deserving or some pit for the pitiful and corrupt but it sounds too good to be true doesn't it? But I don't really know, nor does anyone else currently breathing…
4. Have you ever penned anything yourself? And if so what's the recurring theme?
Yes, unfortunately. I suppose if I were to list some reoccurring themes, floating around would be: Sex, Loneliness, Disgust, Uncertainty, and Beauty.
5. If you had to re-live your life as a character in a book, what book/character would it be?
I would love to relive something dark and post-apocalyptic like The Road by Cormac McCarthy. Just to see and test the limits of humanity and self. But in a sense, it's almost like a sadistic video-game reality. If I had to choose an authors life, I'd gladly take Henry Miller. That man seemed to have it all figured out.  "I have no money, no resources, no hopes. I am the happiest man alive".