Close Encounters of the Literary Kind: Part 10
My friend Noelle moved to Portland last year to escape the L.A. rat race and embark on a, as she put it, "a new journey". We met 9 years ago while we were both interning for a mutual friend at a cosmetic company in Costa Mesa. She has an eye for fashion, an ear for good music, and can articulate her thoughts better than anyone I've ever met.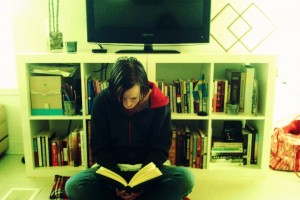 So here we are, sitting on her cozy sofa, sipping tea and playing catch up when I noticed her entertainment unit filled with books. This won't mean anything to you, since you don't know Noelle. But I do, and for as long as I've known Noelle, she's never been a big reader. Between working and going to school (back when we lived in Southern California together) she barely had enough time to see me, let alone read a 200 page book. I remember gifting Choke by Chuck Palahniuk to her for Christmas a few years back. I had read it and knew she'd love it. 4 years later, she still hadn't cracked it open. So when I noticed her newly acquired reading habit, I pointed to the bookshelf and asked her what changed. Time, apparently. Noelle told me that the Portland lifestyle isn't as fast paced as LA, and she's been thrilled to finally catch up on her reading.
I asked her to participate in my blog series, and was stoked that she agreed. Thanks, Noelle!
The Same 5 Questions I Always Ask
1. What book has been the biggest influence in your life?
The Second Sex by Simone de Beauvoir. It's about the beginning of feminism and what it is to be a woman. One of my favorite quotes from it is "One is not born, but rather becomes, a woman". I believe that destiny is not a cosmic force but a human choice, the result of culture and circumstance.
2. What author and/or character do you identify with most?
I identify with Virginia Woolf, as she often found herself dealing with her immediate personal surroundings, sometimes in a overt manner and at other times influenced by surroundings in a rather more subconscious manner.
3. What do you think happens to you when you die?
I believe when you die you are basically leaving the shell of your body. Once you go into the light, you'll watch your life unfold before you – like a movie.
4. Have you ever penned anything yourself? And if so what's the recurring theme?
I recently started writing short stories. The commonality is that there is always a heroine. There's a consistent struggle between the self and the greater good. I have a lot of works in progress.
5. If you had to re-live your life as a character in a book, what book/character would it be?
I would come back as Anais Nin in the diary of Anais Nin. Her diaries are detailed portraits of the expatriate life Parisian literary life in the early and mid 20th century. She seems to be a primarily transitional figure in the evolution of women's consciousness. Also to be alive during such an important time in Paris in the 30's for art and literature would be amazing.