Dial a Poem? Sure, Why Not?!


Every week my friend Derek and I have a "catch up" Skype call where I fill him in on what he's missing out on here in LA. In turn, he enlightens me with the hip happenings of New York City and tells me tales that would make my mom blush. Sure I'm a little jealous that he's lived there for over a year and I still haven't been able to visit. But the moment I start to pout about it, Derek tells me my frown lines are unbecoming and that I need to practice nonchalance. Apparently, New Yorkers have mastered that.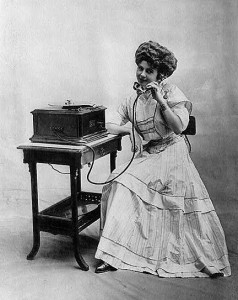 Today he told me about 'Dial a Poem' at MoMA. Yep. You read that correctly. Currently, the Museum of Art in New York has an installation equipped with four phones. With the receiver to your ear, you're thrown into a poem roulette of sorts. With each "call", you'll hear a poem read aloud by the poet themselves. How awesome is that? For those of us unable to visit MoMA, you can check out Dial a Poem from the comfort of your own home.  I'm listening to some untitled poems by Frank O'Hara as I type!
Now if only they could get Jeremy Irons to read some of Edgar Allan Poe's work…..