Join our Better Writers Group!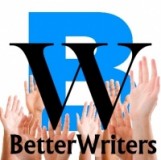 For some of us, writing comes naturally. For others, it requires a bit more effort. Regardless of where you fall in this category, there is always room for improvement, right? Whether you should focus on grammar or character development, improve dialogue or strengthen your plot, the people in our Better Writers group want to help.
Check out 1st page critiques. In this thread, users can post the first page of the book they're working on and receive quality feedback. Wendy aka, WritingMum, and Stacey Doss are the moderators for Better Writers and she, along with other group members, encourage BookRix members to share their work, ask questions, and participate in fun writing contests. So what are you waiting for? Check out Better Writers on BookRix and Facebook today!