10 Self Publishing Myths: Busted!


Myth #10: Self publishing is for writers unable to get published through a traditional publishing house.
Truth: In earlier times, publishing houses had to compete against affluent, wealthy men who didn't need the assistance of traditional publishers to to execute their work. In modern times, an unofficial policy has emerged. Most publishing houses refuse to take on a new author unless they have a large online presence (25k fans minimum). In the past, midlist criteria sales ranged between 10k – 20k. But these numbers are frowned upon by today's big publishing houses. For this reason, many new self published authors are emerging.
Myth #9: Readers do not like to read self published books.
Truth: Readers like to read, plain and simple. But they expect quality work for what they pay for. Who can blame them? Whether you're a fan of her work, or not, the success of self published authorAmanda Hocking is no laughing matter. Bottom line: If it's well written and marketed properly, people will want to read your work.
Myth #8: Due to low production standards, readers can tell when a book is self published.
Truth: Unless you're an expert in binding and laminating, readers will be none the wiser. Stick to covers and text that bear a resemblance to other books in your writing genre.  Untrained eyes will never know (or care about) the difference.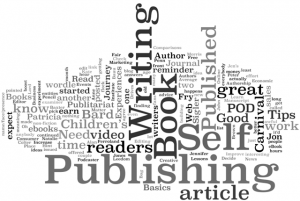 Myth #7: Self Publishing is too expensive! Authors have to buy their books in bulk while paying upfront for publishing services.
Truth: A self published book should look good. By formatting your own work and designing your cover art (Photoshop and Illustrator are both helpful) writers can cut down on costs. An ISBN, EAN, Library of Congress number and bar code are all needed. These services are available through publishing companies for a fee. Instead of ordering books upfront, self publishing authors can opt to use Print on Demand and save! Some companies offer this service free with their publishing packages making it even more affordable.
Myth #6: Self Published books don't get reviewed
Truth: Contrary to public opinion, self published books do get reviewed. Mostly, their reviews are via radio, local media, regional magazines, and on the internet.
Myth #5: Self-Publishing is expensive because you have to pay large setup fees
Truth: Some companies offer packages that include formatting, ISBN, EAN, LOC#, bar code, book cover, and distribution. Be aware of companies who offer a small set up fee that doesn't include any real services.
Myth #4: The success of a self published author is dependent on their ability to self promote
Truth: Whether you publish through a traditional publishing house or opt for the independent route, promotion is required and it's a lot of work. Unless you're a celebrity with an existing fan base, you'll need to work for it regardless of how you've published your work. Large publishing houses refuse to take on new writers unless they're willing to promote themselves via book tours, media interviews, etc.
Myth #3: Self published authors have a disadvantage because there isn't a quality control system in place
Truth: Yes, most self published authors are unknown. There are a few self publishing companies who insist on quality in editorial as well as production values. It is strongly encouraged that authors hold themselves to a higher standard in quality in order for potential readers to trust independent work.
Myth #2: Most self published authors are unable to sell their work at large chair bookstores, yet this is required to be successful.
Truth: In the past, book stores were essential. However the internet has changed the way consumers buy books. Recent polls have confirmed that 43% of consumers purchase their books online, yet only 32% of consumers shop at chain bookstores. The remaining 25% is scattered between independent bookstores, drug stores, specialty shops, etc. Online book purchasing has taken over.
Myth #1: Self publishing is for people who don't want a career in writing
Truth: Authors published through a traditional publishing house face the same dilemma as any self published author. You're only as good as your last book. If your work has not earned back its advance, chances are your publisher will chose not to publish your next book. Only 1-2% of all books published become bestsellers. Money normally comes in over time, rather than all at once up front. Self published authors can be successful if they continue to write quality work and promote themselves. Only the author can determine whether writing is a career for them. You're in control of what you write, and when you stop writing.