Kindle 1st Quarter Sales Numbers Down? Maybe Not….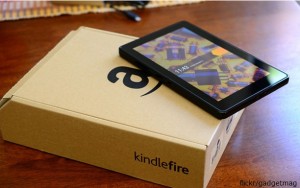 In the last quarter of 2011, Kindle put up a mean fight and took names with their sales numbers. What happened between then and now is anybody's guess. Apple has been flexing their iPad muscles for awhile now in an effort to dominate the tablet market. As a result, the iPad accounts for 68% of the tablet market, according to market-research performed by IDC. What's the deal?
I read quite a few articles and blogs with similar sentiment: Apple beat out the Kindle Fire by a long shot. But then I saw this article by Jeff Bertolucci from PC World that offered a different perspective on Kindle's sales numbers this quarter. Jeff says these numbers are "misleading" and that "many tech bloggers and journalists don't understand the difference between "shipments" and "sales" of a product." After reading his article and digging a little further, it makes more sense.
What are your thoughts?