Join Our Serious Writers Group. Seriously!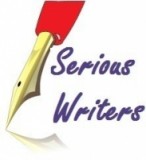 If you're a creative writer looking for a place to engage with likeminded people, collaborate on writing ideas and techniques, and receive feedback on your work (as well as give it!), then you need to come join our Serious Writers group on BookRix!
Serious Writers was created on July 9th, 2010 and has gained over 1400 members with over 10k discussions. This group was founded by passionate writers and has maintained its success by promoting positive attitudes and encouragement. Serious Writers strives for growth regardless of a writer's current level of experience. Group members continuously work to improve their writing skills and strive to help others in the process. What's not to like? Join Serious Writers today!