The Driver by L. Avery Brown
Published
July 5th, 2012
|
By
BookRix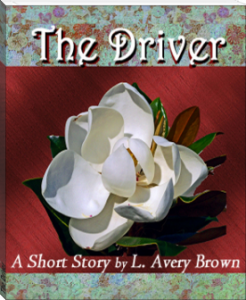 A few weeks back, I came across The Driver by L. Avery Brown on our site and was immediately sucked in by the character Miss Callie. I loved the authors writing style and her story brought tears to my eyes on more than one occasion. I reached out to L. Avery this week for an interview and was thrilled she had the time!
L. Avery  Brown (her first name is Laura) spent a large part of her youth in Concord, North Carolina. She attended the University of South Carolina- Columbia and received her BA in History and her Masters Degree in Teaching History. Currently, she lives in the Hill Country region of Austin, Texas with her husband and 15 year old daughter "who is not only as sweet as honey but is terrifically smart, plays the guitar and has the voice of an angel". Together they have a skittish 9 year old rat terrier named Melanie and a nearly 4 year old, 20lb orange tom cat named Junior.
What inspired you to write The Driver? Is Miss Callie based on anyone you know?
Miss Callie was a real person my father knew as a young man growing up in the mountains of North Carolina in the early 1930s.  (My father was 52 when I was born…it was a May-December romance for my parents and I am their only child together)  He wrote a poem, Miss Callie, years after she died as a way to remember and honor her because she was such a kind woman.  Only in the poem, as in real life, she had no children of her own rather she thought of the children she taught in her Sunday School class as her children and loved them as if they were.  It made me wonder…what if Miss Callie did have children?  How would she recall her gentle life as it neared its end?  And from that idea The Driver was born.
What brought you to BookRix?
I was searching for possible agents and publishing houses and not feeling very inspired because I'd been turned down so many times.  I'd even started an international blogging group called 'Real Bloggers United' hoping to bring together like minded writers and we were strong for about a year until the sizzle among the members turned to a fizzle. I thought maybe I was kidding myself about making writing a real career.  And then while I was hopping around the internet one day (because I loathe the idea of giving up on something I've put so much in to) I saw BookRix on the page of sites to consider.  I was intrigued at the idea of writers helping writers become better writers.  I thought 'Wow, that's exactly what I was trying to do with RBU!"  But BookRix went beyond the blogosphere and reached out to all sorts of writers.
How would you rate your experience on our site?
On a scale of 1 to 10 with 10 being terrifically happy, I'd give it a big ol' 10!  From day one, I've never had anything but encouragement.  When I had to put writing on the back burner because of my mother's health, I thought for sure I would have been forgotten at BookRix…but I wasn't.  When I came back it was like I'd never been away.  So much had changed…and for the better.  The groups had become more clearly defined.  The concept of writers helping writers had solidified.  And now, whenever I come across a friend who says, "I envy you.  I've always wanted to write about…" I say, "Don't envy me!  Go for it.  You will never know if you don't try it.  When you're done, go to BookRix.  Get some feedback.  If it's good feedback, fabulous.  If it leans more towards the 'your heart is in the right place but the skill is lacking' direction…use the advice you've been given.  It can only help."
Any weird/fun/silly habits?
To me everything seems absolutely normal!  HA!  Although I will admit, I do have a few quirks about food.  I loathe lumps in potatoes.  I cannot fathom the thought of eating lima beans.  And dear Lord, I cannot even think about eating runny eggs.  The mere thought of it makes me squeamish!  And aside from my goofy food issues, I don't like to watch movies/TV shows or listen to music by recently dead people.  If they've been dead for a while, it's fine.  So, I'm thinking that probably falls into the weird category!
Tell us a little bit about the types of books you write.
I've written all sorts of stories.  I've woken up with dreams so vivid, I immediately write them down because I don't want to forget them.  Sometimes I wonder if my head will explode because of all the tales running around in it!  My blog site is filled with humorous recollections I like to call 'ramblings'.  But I write more than just humorous things, as can be evidenced by my short story, The Driver.
For example, I've written an epic teen fantasy adventure novel that I hope to one day have published.  It's a very involved tale with so many characters my husband is amazed I can keep track of them in my head.  After he read the first story and said wants to read the follow up….but that'll take a while.  It took 4 years to write the first one!  And I'll pull it out every couple of months to work on editing it then I have to put it away or I become obsessed with it.
Likewise, I've written several 'Chick Lit' stories and hope to have my first one, Fly Home, Earli Byrd, properly edited as soon as possible so that it can be published.  I've even dabbled in the erotica genre, only I published the book under a pseudonym.  Why?  I simply wanted to prove to myself that I could do it.  And the comments I received on it were mostly from other erotica authors and were surprisingly in depth and positive.  I didn't even realize it was such a huge field!  It's not really my 'thing' but I'm proud of myself to know that if someone said, "I'll bet you a dollar you can't write erotica."  I can honestly reply with, "I'll bet you 2 dollars that I can!"
Anything you'd like to share/want us to know?
My minor in college was Theatre Arts.  I've been singing and acting since I was five.  My grandmother, who I adored, was an actress and my mother often tells me how much I remind her of her mother.  I suppose if I'd not gone into teaching, I'd have taken up the dramatic arts as my career.  I sort of 'married' teaching to my acting skills and referred to myself as an 'edutainer'.  It sounds goofy but it worked.  My kids, regardless of what their socioeconomic background may have been or what language may have been their first language, always walked away learning something when they thought they were just having fun listening to me teach history with a bit of a twist!
No one in my family will play trivia games against me because I've got an oddly sharp memory (but not an honest to gosh 'eidetic memory') and have often been referred to, lovingly, as a fountain of useless information.  But to be truthful, I don't actually 'recall a memory as a fact' rather a part of me becomes the memory.  I call it my 'fly on the wall' super power.  It was quite helpful when I was in college and had to recall oodles of information for history tests.  For example, I once took a Napoleonic Era class wherein the professor was the expert and the author of our text.  After our first test one of the TAs swore I must have cheated because my details were 'too much like the text'.  But after standing there and reciting almost verbatim what I'd written on my test, both the TA and the professor were a bit gobsmacked.  My prof asked me if I had a photographic memory I said, "No, I don't think so.  I just put myself there on the battlefield the way you described it, sir.  I felt the battle…I heard the cannon…I just wrote what I saw in my head."  Hmmmm, maybe that ought to go under the 'weird' thing in the question above!
It was a pleasure getting to know Laura during this interview. She's smart, down to earth and a very talented writer. I'm looking forward to reading more of her work!