Who Wants a Piña Colada? We Do! We Do!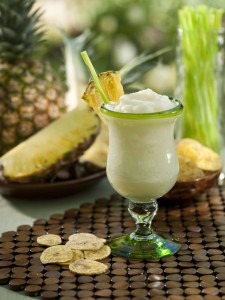 You don't have to be on a tropical beach to enjoy an ice cold piña colada, but it would certainly help! Whether you're having a cocktail with your coworkers or chilling out solo in your kitchen doing dishes, there is rarely a bad time to enjoy a piña colada. Can you think of one? We're struggling with it, too.
Today, July 10th, is National Piña Colada Day! What does that mean for you? Well, this drink is exactly what you make of it. We're gonna go all out, make them fresh in our blender and enjoy this tasty, cool drink when we're off work. Not sure how to make it? Let us help you! Here's the recipe we'll be following!
Ingredients
Ice cubes
1/2 cup rum
1/2 cup coconut cream
1/4 cup coconut milk
1/4 cup pineapple chunks
Sliced pineapple, for garnish, optional
Maraschino cherry, for garnish, optional
Directions
Fill blender halfway with ice cubes. Add rum, coconut cream, coconut milk and pineapple chunks. Puree.
Garnish with a slice of pineapple and maraschino cherry!