Happy Friday the 13th!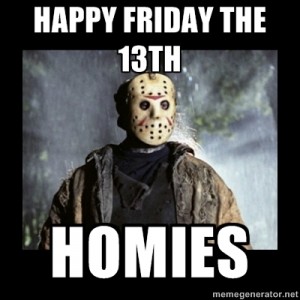 Horror is a specific genre adored by many, but equally hated by others. Some live for the adrenaline rush they experience while being terrified, while others go into panic mode and run for the hills. Personally, my preference falls somewhere in between. I'm a true crime fan fanatic and enjoy a good horror movie or book, yet you won't catch me anywhere near those "killer clown" mazes at the local carnival or amusement park during Halloween. I've also been known to punch my friends or work associates when they take advantage of my fears by occasionally leaping out of a dark corner when I least expect it. I can assure you my reaction scream is louder than their "boo!" and the punch I pack is nothing to laugh at. The joke is on you, guys.
The thrill of adrenaline is one thing, but superstitions are something else entirely. 13 has been my favorite number for as long as I can remember (probably because it represents officially becoming a teenager). But to many, this number represents a bad omen and is considered unlucky.  Some hotels even skip floor 13 entirely and jump from 12 to 14. As if that's fooling anyone!
Whether you're a fan of Stephen King, H.P. Lovecraft, Richard Matheson or Dean Koontz, today is the day to crack open their books and get your goose bumps on! In the mood for a scary movie? Friday the 13th, Halloween, and Nightmare on Elm Street fit the bill. Jason Voorhees, Michael Myers and Freddy Krueger would love to pay your fears a visit! What are you waiting for? It's Freaky Friday!