Don't Hassle the Hoff! Unless it's His Birthday…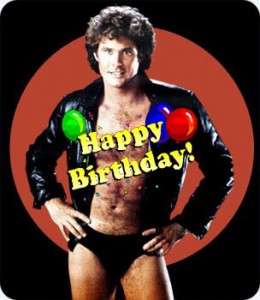 Not sure how many of you grew up watching David Hasselhoff on the silver screen, but I did. I swooned over him in Knight Rider with those dark jeans and that cool leather jacket. But then he ditched the mystique and moved onto Baywatch with those ridiculously short orange shorts that made my mom blush, and I swooned some more.
Whether you love him or you hate him, David Hasselhoff is the jock of all trades in Hollywood. He's worn the hat of an actor, musician, writer, and producer. And through it all, he's managed to keep himself in the limelight, good or bad, without fail for decades.
Today, July 17th, David Hasselhoff turns 60! Unfortunately, we didn't receive an invitation to Mr. Hasselhoff's extravagant birthday party celebration this evening (we're sure our invitation just got lost on the mail). But with that said, we're still going to raise our glasses (or coffee mugs) to him and wish him a birthday as awesome as he is. We're also going to listen to this YouTube video on repeat because it's too good not to. Enjoy!