Join Our Art Writers Group on BookRix!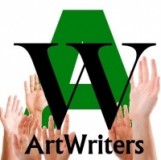 You've finally completed your written masterpiece and you're itching to publish it. But there's one problem: The cover art. What should the cover depict? Which font should you use? Does it look too cluttered? Is it too plain? Don't overwhelm yourself. Join our Art Writers group on BookRix and let the pro's lend you a helping hand.
Art Writers is your final port of call where you can finish those books and put a bit of spit and polish on them. We offer advice on, illustrations, book covers, video teaser, photography, 3D art. This group is dedicated to helping our members develop their shop window, so if you have something to offer or you want to get involved, come and join and say hello to Meli and the gang.
If you possess a creative flair for color or composition or can work Photoshop like a pro, stop by and lend your expertise to some of our members! They'll be thrilled for your assistance and you'll be pleased to see your work on public display. You can also pick up some cool tips as well as share your knowledge to aid others in their efforts. Don't miss out! Join Art Writers today!