Spice Up Your Reading List With a Little Erotica!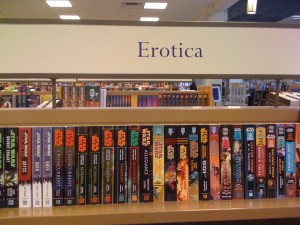 I've been on a True Crime/Serial Killer kick lately (don't ask) and saw online that the Barnes & Noble by my house had a copy of Killer Clown: The John Wayne Gacy Murder in stock. Normally I'd just look for it on my Kindle, but I recently let my dad borrow it and was too impatient to put my reading list on hold for when he returned it. As luck would have it, the girl working the cash register at B&N told me some guy had purchased their only copy of Killer Clown 30 minutes before I got there. What are the odds? Seriously…
Needless to say I was annoyed. A.) because if I hadn't been hell bent on braiding, unbraiding, then re-braiding my hair only to settle on a bun before leaving I would have purchased the book first, and B.) Somewhere some dude was reading MY copy of that book and now I was stuck ordering it online and had to wait for it to ship. Why had I spent so much time on my hair??? Ugh.
I began browsing the store, desperate to find something to read over the weekend, when I spotted the Women's Erotica section. 50 Shades of Grey was prominently displayed on the shelves. I only got to Chapter 3 before I threw in the towel. I noticed two younger men (friends I assumed) on the same aisle, only fifteen feet down by the magazines. In hindsight, I'm sure they weren't making fun of me for looking at the Erotica section. But when I heard their giggling my face flushed red and I felt my cheeks burning. Without hesitation, I pulled out my phone and decided to blame the whole thing on my mother. "Hey mom?… Yea, I'm here…. Who's the author?… Anais Nin? …. Yup. They've got a few, actually……. Just pick one? ….. Right. …. If you like it, you can always get the others…. Exactly…. Ok, see you tonight!"
I walked to the register, completely pleased with myself. I totally fooled those guys! The erotica wasn't even for me! And then I thought about it and realized how weird it would sound to buy erotica for my own mother. How did I miss that part? I was mortified.
Here I am, one week later, and it's pretty good. I mean, her wording is a little dated, but I imagine this was quite controversial back in the day. Definitely better than 50 Shades of Grey! But it got me thinking… what other GOOD erotica books are out there? And then I stumbled upon this article at IndieReader.com titled: The Penis Poll: How the Best Selling Erotic Books Measure Up. I'm not sure that I trust their judgement, considering 50 Shades got (essentially) a five star rating. But the article made me laugh and in the end, I decided to see what our BookRix authors had to offer in the Erotica genre. Check 'em out here and let us know what you think! I'm excited to see what our members have come up with.
One Response to Spice Up Your Reading List With a Little Erotica!