Who Lives in a Pineapple Under the Sea? Happy Birthday, Stephen Hillenburg!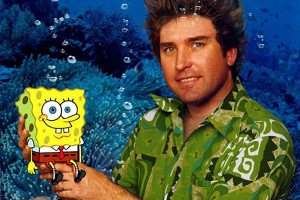 Spongebob Squarepants is one of those shows I would never have watched if it weren't for babysitting my nephew, Nigel. I wanted to watch 90210 reruns and he threw a fit because his favorite cartoon was on. Prior to that night I had only seen SpongeBob in magazine ads and a few small tv clips that I muted. Although I'm not a huge cartoon fan, I have to admit, it's pretty freaking cute. Unfortunately, I'll never be able to get the theme song out of my head.
The creator, Stephen Hillenburg, studied marine biology and began teaching it at the Orange County Ocean Institute. Shortly thereafter, he attended CalArts for animation where he earned his Master of Fine Arts in experimental animation. Without missing a beat, Hillenburg synced up with Joe Murray, creator of Rocko's Modern Life and began working on the show. With his connection to Nickelodeon, Hillenburg was able to pitch his idea for SpongeBob Squarepants, and the rest, as they say, is history.
Today, this successful Stephen Hillenburg turns 52 years young. Happy Birthday!