It's National Procrastination Day: Let's Beat It!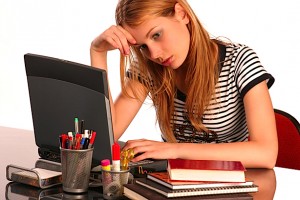 Is procrastination getting the best of you? Don't feel alone. At one time or another, we've all put something important off because, well… we just didn't feel like doing it. Or we saw something shiny. Or you had to Shazam a song real fast. Or you were being help up at gunpoint by circus monkeys. Or, or, or…..
Procrastination isn't always a bad thing, especially if you don't put it (whatever it is you're avoiding) off for too long. But it can also bite you in the bum, if the task is important, but not time sensitive, which can lead to regret. For example, it's more difficult for some folks to work out when the weather cools down and swimsuit season has passed. But when you put off the gym for a period of time, it's hard to get back on track. And that pesky swimsuit season that's a whole year away, ironically creeps up at record speed and its summer all over again.
This rule applies to writing. You're excited to write your book. You know the plot; you've laid out the characters and you've even lined up a few unexpected twists to keep your reader on their toes! But then you write a few chapters and…. Procrastination sets in. Now suddenly writing has become a chore. But why? You LOVE writing! Don't worry, it happens. But here are some tips to get over the hunch:
Commit to 15 MINUTES a day working on the task at hand — set a timer so you know when it's over. You will be amazed at how much you can get done in 15 minutes — and you'll probably write even longer once you get started!
Most people write on their computer. If you have a laptop, you're mobile! If sitting in your living room sounds depressing, take a beach chair to the park and bring your laptop along. If outdoor weather doesn't permit such activities, try sprucing things up by visiting the library or a quiet coffee shop. You don't have to complete your work there, but a change of scenery does wonders to your creativity.
Start your day off with writing – getting it out of the way early makes the rest of the day seem easy. Plus you have all day to congratulate yourself on being awesome!
Break your writing up into segments. Instead of writing from beginning to end, write out scenes, piece together dialog and describe settings in your book. Breaking it up can motivate you to synchronize them together into a storyline.
At the end of the day, remember that no task is bigger than you. If you break it down, spruce things up, and work to tackle it, you'll be pleased with yourself and nothing beats the feeling of accomplishment. Remember: You are awesome. And you can do ANYTHING!