9/11: May We Never Forget
Almost everyone can remember where they were on September, 11th, 2001. It's a day in history that will haunt us for the rest of our lives. At the time, many were completely overwhelmed with fear, which was then followed by feelings of deep sadness that lasted for a considerable period of time. As days turned into weeks, months and eventually years, people were amazed by the citizens and workers in New York who demonstrated unbelievable bravery, courage and love for one another. This love and courage surpassed New York along and spread across the United States. So many used their suffering as a way to band together and offer support to those around them. It's hard to believe that through something so hateful and tragic, came such an outpouring of love from all around.
May we never forget the tragedy of this day and remember those who lost their lives, the friends and families who lost loved ones, and the millions who were affected by it.
There have been numerous books and movies made to depict the events of 9/11. If you're looking for a fictional book depicting love and loss, you should check out Taken: A 9/11 Story by Zzmbrashear below.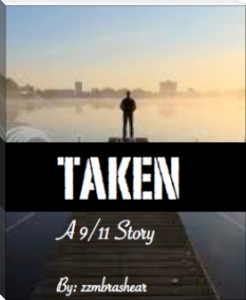 Danny is only 24. Him and his beautiful wife Linda live in a one story house by a lake. Danny's life just took off. His wife Linda works at The World Trade Center also known as, one of the one of the twin towers. Danny works as the chief firefighter for New York City. They are madly in love. They just recently got married and have been enjoying every second of it. That was until the frightful day of 9/11. There was no way Linda or Danny could have known. Does Linda survive? What does it force Danny to do?