Change the World: One Positive Thought at a Time
Ever had a case of the Mondays that lasted all the way through Friday? Whether it's homework overload, studying for a test, hunting for a job, stressing over your boss, trying to pay your bills, arguing with your significant other, issues with your in-laws, not enough hits on your OKCupid account… I could go on and on, but I'm pretty sure you get the picture. Sometimes, your day(s) just suck(s) a little. And that's ok! That's life. You know that saying, "the sweet ain't as sweet without the bitter"? Well, there's a lot of truth to that. Bad things in life make you appreciate the good things more. And they also build character and make you strong.
See? When you've had a bad day (or week) you've gotta look on the bright side and do your best to flip it around. Sure, some situations are harder than others to "flip". But you'd be surprised what a little positive thinking can do to your mood. Don't believe us? Try it. We dare you! Check out some of these cool ideas to keep your head above water and the air in your sails.
Ditch the Debbie Downers: Ever hear the expression 'misery loves company'? Well, zap that negative energy by surrounding yourself with positive people. Look at your friendship circle. The ones offering quality advice, looking for solutions, and being supportive – those are the ones to keep around. Let go of the ones bringing you further into the ditch of despair.
Be happy for what you have, not what you don't: Homework time! Grab a pen and some paper and jot down some of the things you're grateful for. This can be your 'gratitude list'. When you're not feeling your best, pull that list back out and refresh your memory. You've got things to be thankful for!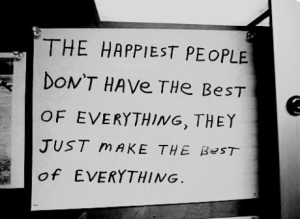 Flash those pearly whites: First off, scowling and sulking isn't attractive. Second, it makes you less approachable. Smiles on the other hand are warm and friendly. Above all else, they're contagious. So perk up, buttercup, and pay it forward.
Dance, Dance, Revolution: No, you don't have to actually dance. But if you did, that would be awesome. And we pretty much guarantee that you'll feel better. But if dancing isn't your jam, we understand. But seriously, listening to Elliot Smith on repeat isn't helping your 'feel-better' vibes. If your iPod playlist is looking depressed and sad, check out Pandora.com. You can create personalized stations to play specific artists or genres that you like (something upbeat please) and who feel good after a lighthearted song? C'mon! Give it a try. You might just catch your foot tapping along to the beat.
Be Inspired: Who doesn't like being excited about something? The build up of anticipation is a great feeling. And actually accomplishing it? It's a natural high. So make some small goals. Track your progress and make it happen. You'll be hyped on the excitement and thrilled with the results.
"It takes just a moment to change your attitude. And, in that quick moment, you can change your entire day." – - Author Unknown