Talk Like a Pirate and ARRRG it Up!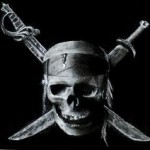 When we hear people complain about 'Talk Like a Pirate Day', we have to resist having them walk the plank. After all, we're civilized (kind of). But still.. People shouldn't hate on this awesomely fun day, cause when else is it acceptable to talk like a pirate, drink beer like a total slosh and wear a hook for an hand? Ok, technically you could do the same on Halloween, but that's kind of cheating.
Kick back, relax, and get into the spirit. The pirate spirit that is, and have some fun! We've got some cool pirate speaking tips, a few corny jokes and some other recommendations you should check out. Arrrrg you ready?
Talk the talk: First off, drop all your g's. Anything traditionally ending with "ing" will sound better: Drinkin', dancin', fightin', etc. Next, drop all your v's, and you'll end up with words like: ne'er, e'er  and o'er! Also, never say things like "you" or "You're". It's "yer" and "yer" only.
Growl & scowl: When's the last time you saw two pirates embrace one another and smile? Exactly. So make sure you've got a scowl on your face and be sure to growl between sentences.
Silly Jokes
Q: What is a pirates favorite soft drink? A: Arrr-C Cola!
Q: Who cleans the Pirate Captain's bedroom? A: A Mer-Maid!
Q: What did the pirate say when he crashed his ship upon the iceberg? A: Shiver me timbers!
Check out our BookRix members Pirate inspired books below!