It's National Punch Day!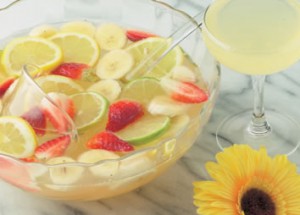 When I heard it was national punch day, we immediately went around the office throwing arm punches at unsuspecting coworkers. Lineh was attacked by the copy machine. Rebecca was innocently reading her email (sorry for scaring you!) and Nils was making a business call. Unfortunately, twenty minutes later I read that 'National Punch Day' was actually referring to the drink, not the physical act of punching someone. Office apologies ensued.
Punch is typically made available at fun occasions like school dances, weddings, baby showers, and other celebratory events… what's not to like about that? And depending on the ingredient mixture, this little concoction can be quite tasty and get you caught with a case of the giggles. Oh rum, how I love you so. Sadly, I've been to many of these events, but never bothered to learn how to make a decent bowl of punch. Lucky for me, there's this awesome thing called Google. Who knew there were so many recipes? Bust out the punch bowl and roll up your sleeves, cause it's time to get your practice on. After all, the holiday's are right around the corner and you've got people to impress…
Orange Dream Punch (fun for all ages!)
(Servings: 30)
Ingredients:
½ gallon orange sherbet
1 (6 ounce) can frozen orange juice concentrate
1 (2 liter) bottle ginger ale
Instructions:
Place sherbet and frozen orange juice concentrate in punch bowl. Allow to thaw for 15-20 minutes. Stir in ginger ale. Viola… deliciousness!
Caribbean Rum Punch (adults only!)
Ingredients:
1 cup fresh lime juice
2 cups simple syrup
3 cups amber rum
4 cups orange juice
4 dashes bitters
freshly grated nutmeg
Instructions:
In a pitcher, combine lime juice, simple syrup, rum and orange juice. Add a few dashes of bitters and some grated nutmeg to taste. Serve chilled over ice.