Does the Tardis have a bookshelf?
"You want weapons? We're in a library. Books! Best weapons in the world! This room's the greatest arsenal we could have." – The Doctor

Doctor knows best, and he's been saving the world, one solar system at a time, since 1963. The first Doctor Who was aired on this day, November 23rd, in 1963. It was originally created to be a family show that teaches everyone about science and important moments in history by following a time traveler. Obviously, it's come a long way since then. Unless "they" just decided to leave the Daleks out of our history books. After airing 26 seasons on the BBC, Doctor Who finally went into hibernation due to a decline in viewers; however, it only lay dormant until 2005 when a new Doctor arrived, returning the show to all its former glory. I would even say it's better because we are so much more technologically advanced now, so the special affects are much more impressive. As the Doctor would say, "This is my timey-wimey detector. Goes 'ding' when there's stuff."
Doctor Who holds the world record for longest running science fiction television show ever and has become a cult favorite. If you're like me, you have a favorite Doctor – tell us who it is on Facebook! Like many of the cult followers, I'm in love with a Doctor, just not the kind my mom always dreamed of. "Hey, I'm the Doctor, I can save the universe using a kettle and some string. And look at me, I'm wearing a vegetable." And although he doesn't necessarily agree with what I'm doing right now, "We're at the end of the universe! Right on the edge of knowledge itself, and you're busy…blogging!" I still have to agree with him on one final statement: "Books. People never really stop loving books."
If you're feeling in the mood for something Doctor adjacent, check out "The Warriors of Rinn" by Judy Colella.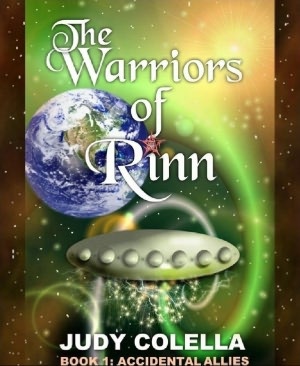 When a UFO lands in his driveway, Shawn Drable has some serious decisions to make. Does he tell his family? Does he tell his friends? And what about the imposing-looking alien who stumbled out of the downed craft? What indeed…
Read some Rave Reviews:
"A fabulous premise written with humor and intrigue." -gooduklady
"This is great writing." -writingmum
"I'M IN LOVE WITH WARIOURS OF RINN!!" -aishayesha
"I would like to say. I would have never read a book about ufos or aliens because it usually doesn't interest me, but I could read your book any day."
-nuluv16
"Judy Colella is a bookrix author that keeps me reading on bookrix. I love her story plots, her characters and she does this all laced with just the right amount of humor, and wit." -storyteller4
"some books are flat, some books are glossy. some books are even glittering. but this book is iridescent!!!" -daughter.of.the.moon



And because I want you to be as obsessed as I am, here's a little taste of the Doctor – The trailer for the most recent season. If this doesn't inspire your inner nerd, then nothing will: