A Kevin Review: The Folks of Muddy Fork
Published
January 9th, 2013
|
By
BookRix


The BookRix Team is filled with fun and interesting characters, so we decided to invite a few into the blogging inner circle to write some book reviews. Here is the first one, written by Kevin: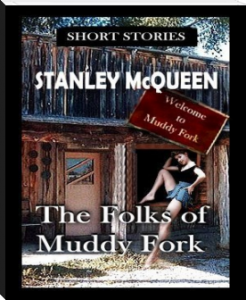 First the long of it. While there's a lot of humor in the book, tagging the genre "humor" alone doesn't seem accurate. Most of the stories don't invoke any "knee-slapping" at all. The reference to hillbillies in the blurb is like a throw away given that most of what we think we know about hillbillies comes from Hollywood's (The Beverly Hillbillies sitcom) portrayal of a simple, unspoiled, unpolished, rough, gritty, back-woods, god-fearing, wizened, modest, uncultured type of people who were "out of it" and certainly not "hip" with regards to pop culture nor the normal thought patterns of the post-war, consumer society they were in. In the sitcom the comedic foil, a slick, opportunistic banker who encouraged the hillbillies to spend the interests of their oil fortune on things they neither knew, wanted nor understood.
While totally fun to read, The Folks of Muddy Fork (TFOMF) offers a glimpse of some of the realities people have in an isolated culture in the backwoods of the Bible Belt, before the mechanization of agriculture uproots the whole shebang…before they even know it. This is a view of life from that time, those values, ethics and the hilarity of the hill folk. It seems well researched and the reader can easily imagine the author having first-hand knowledge and experience of the smell of the earth, the houses, the foods, not to mention the use of hillbilly words we know already like "varmints", "vittles", and the hot tempers and prudish social norms and courtship rituals of small town living.
Muddy Fork, where nearly every house is referred to as a "shack" because…they were. No electricity, no plumbing. Wall and a roof. It seems lots of people made their shacks themselves or they were made by neighbors who were also not skilled house builders; where most people grew corn and tobacco to get by and kept a few animals for subsistence and never escaped being quite poor. Share-cropping or giving the lion's share from the crops to the owners of the land one cultivated as rent.
These are very diverse stories executed with wit, depth and sensitivity. I feel like I've known these people, their town, their concerns, for a long time. "Crazy" old codgers who'd survived a life of loneliness and isolation with the company of and caring for possums and a talking eagle who promised to fly the old boy "home", when his time came to go, which reads like a tender Indian tale of the trip past the pain of physical existence and its suffering who was befriended, adopted and buried as family almost. Just plain beautiful.
A forty-something year old farmer wasting away from "consumption" decides to throw himself a wake to say goodbye to his friends and neighbors before he dies. These stories depict a devout and caring small township and traditional "standup", farming values.
The perspectives of these characters aren't always so humorous. The story of how a huge, giant, "big" overweight character, who refers to himself as "bulky", discovers a mate of the same proportions is another gem. Transported far from our world and with our concerns as life gets condensed; boiled down to the essentials.
Now, while not spoken of directly, I realized that most of the people in Muddy Fork have the name Bishop as a family name (as in the Bishop)…so, while it's alluded to…we won't start-in on inbreeding issues here.
Another is the old widower Grandpa who misses his wife/accomplice-in-life so much he forgets to live while he can. Told through the eyes of his grandson.
Hard-earned wisdom. People being "taken" and cheated, seen through the eyes of "let the buyer beware". Examine the goods, investigate, "if you don't ask why would I tell you?" There's a law against such misrepresentation nowadays (which isn't to say it therefore never happens anymore) Hillbilly proverbs.
A contest for which the person judged the laziest wins a cash prize. The other lazy guy story has 'the laze' blocked from his routine of living in the warm jail-house in the cold winter months and is given a badge to go after the "moonshiners" who are all his friends.
Where does Mcqueen get this stuff?
Country pranks, county-fairs, jealous-type wife beaters. Here's one: "He was shaking like a dog pooping a peach seed." LOL! The handling of marital betrayals and a thousand other rules of thumb.
The perspectives. "Morals". "Appearances". Things I have to reckon with when I visit my family who are now living in the Bible Belt. It all rings true to me. The story about a parish's treatment of a land-owner so stingy that he threatened to shoot whomsoever might tread on his land even if it's the quickest way to the church in a blizzard had me in tears. Might make a devout atheist consider joining the church…almost.
Even Satan himself makes a comical appearance.
A town meeting changes life as they know it when a wild woman with 12 kids and one on the way all from 12 or 13 different men brings the town to the consensus of immediate action upon this kind of immorality along the men responsible for all them father-less kids. Y'know, run them out of town or into church service, until she starts to point out the town's respected husbands, fathers and gentlemen she's come to "know" in the biblical sense. S'hilarious.
A village get-together meal becomes a public food fight. Great stories. I love this book.
I know this review is a lot longer than it should be, but I couldn't see how to give an idea outlining just a couple of them as they're so different. They seem to work better together as a collage of life in ol' Muddy Fork. Apparently there's a Muddy Fork out in Oregon. Probably very different though.
Ol' Mcqueen is "cut loose". I'd rate it at 9.9.9!
-Kevin
Looking to try out some Stanley Mcqueen? Try one of his short stories, which are also being sold individually.

3 Responses to A Kevin Review: The Folks of Muddy Fork