Who Reads eBooks and How It Affects YOU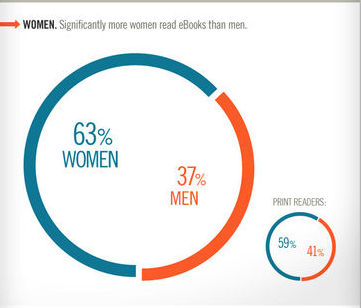 When you're thinking about marketing your book, you should know more about your consumer and how many people out there are actually reading eBooks. To determine how publishers and authors are going to adapt to this digitally savvy target group, Random House wrote an article that puts the e-book reader under the microscope. Some very interesting facts were revealed, for example, women are reading 10-20% more than men. For eBooks, 63% of readers are women. Hmm, could that possibly be the reason why Danielle Steel and E. L. James are enjoying long weekends at their vacation homes in the tropics? Kind of makes you want to add a little romance into your novel, doesn't it? Honestly, that wouldn't be a bad move. Thinking about real life hormones, does anyone really get through any event in their life without libido getting in the way somehow? So why wouldn't your zombie novel have at least two characters becoming romantically involved in the midst of the blood and gore of the apocalypse? A little chemistry goes a long way.
What does this mean for authors?
Well, it means that developing your presence and building buzz across a wide range of online platforms where eBook consumers can be reached (including your website, blog, social networks, and reading-focused sites) will become increasingly important as eBook and eReading device adoption continues to grow.  -Random House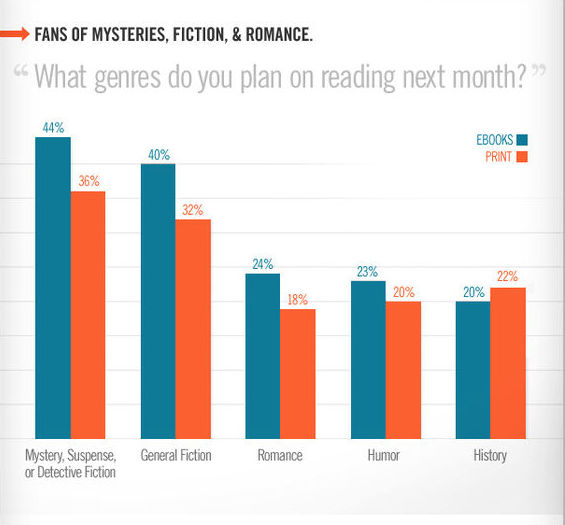 Random House also shared that 60% of eBook readers are under 45 years of age, 66% of eBook readers have a degree, people who read eBooks have a higher income than those that read print books, eBook readers spend less on each book they purchase, and the most popular genre is Mystery & Suspense. Don't get discouraged if you're writing a Science Fiction novel about an elderly man who doesn't have words in his vocabulary that exceed three-syllables. There is still a market out there for you, it just might be a little smaller. And don't forget – the statistics surrounding most popular genre are constantly in flux due to ever-changing trends. When Fifty Shades of Grey came out, the popularity of Erotica went through the roof. And although vampires have always been represented in literature, Twilight brought them back to the front lines of fashion and style – basically they're hot-hot-hot.
The good news is that over 20% of American adults have read an eBook (and this number just continues to grow), and people who own eReaders are 56% more likely to get their reading recommendations from online bookstores and other related websites. (Great news for the wonderfully online and book related community that is BookRix!) And now, the point of this entire blog: What does this mean for the author? I'm going to leave it up to Random House, because they have the perfect answer: "It means that developing your presence and building buzz across a wide range of online platforms where eBook consumers can be reached (including your website, blog, social networks, and reading-focused sites) will become increasingly important as eBook and eReading device adoption continues to grow." – Mina Park, Senior Analyst, Consumer Insights (Click HERE to see entire article)