Proof Me, Bro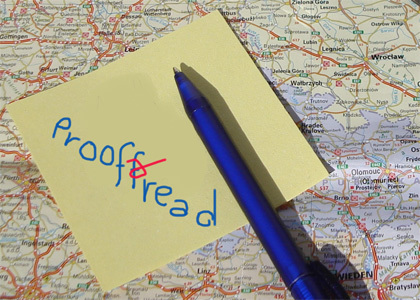 If you've ever weight trained, or know someone who has, you know the first rule: Always have a spotter. A spotter's job is to support the person lifting weights. If the lifter is unable to physically handle the weight, the spotter is there to help. Having this type of assistance is a safety precaution that can eliminate injuries. This same principal, although slightly different, applies to writers. They should always have a proof reader. Sure, a writer isn't going to tear a ligament by not having second set of eyes scan their work. But they could easily damage their reputation with undetected written mistakes if they opt out of having their book proofed. So why throw caution to the wind on something your as precious as your notoriety? Simple: You don't.
It's not uncommon to get apprehensive at the thought of having your work critiqued. But before unnecessary anxiety sets in, remember that almost every reputable author has an editor. Someone to add an apostrophe, mark a run on sentence, or simply tell you the dialogue needs work. Whatever the case may be, it's worth it. When you write a story, the content is coming solely from you, so of course all the pieces come together and make sense in your mind. But to a third party, it might need some clarification. Ultimately as the writer and creator, you have the final say in the changes you incorporate. A proofreader's goal isn't to change your vision, but rather to ensure it's received in its best form. It's just one more step towards getting your book ready for publishing. So reach out to someone you trust (friend, family member, work associate, BookRix member, etc), and ask them to lend you their expertise.
….and while someone is proofing your work, why not shift your focus to BookRix Author Patrick Sean Lee and delve into The Redemption of Marvin Fuster. Clever and well written, a very enjoyable read.