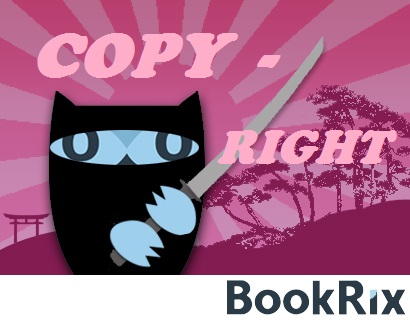 A great book cover is essential to attracting readers. After all, first impressions are everything! But how do you find the perfect image? Many turn to Google by entering a variety of keywords, clicking the 'Image' tab, and sifting through endless options until the perfect selection is made. Sounds like a no-brainer, right? Not so fast. When you factor in the consequences and fines associated with copyright infringement, you should think twice before you using an image that doesn't belong to you.
How would one know if a photo is protected by copyright? Essentially, ALL photographs are protected by copyright. No matter how good or bad the image quality, someone either took that photo or digitally created it, therefore it is owned by that individual or business. Copyright laws protect the owner for the duration of their life, and up to 70 years after their death.
Here is some important information about copyright protected images and how you can avoid nasty fines or negative repercussions from using an image protected by these laws.
Can I use a photo if the owner isn't listed or credited?
No. Even if an image isn't imprinted with the standard copyright © symbol and the photographer or artist is unknown, you are not authorized to use the image without receiving the appropriate rights and/or permissions.
What should I do if I want to use an image from the internet?
There are various images available online for free or for purchase at reasonable prices that can be used commercially. Both http://www.istockphoto.com/ or http://www.shutterstock.com/ are credible sites that offer endless image options that can be purchased legally. But it is imperative that you adhere to the copyright laws of each website. Always stay informed regarding the copyright information necessary to use an image. When in doubt,  ask the artist or photographer associated with the image you intend to use.
Can I use any image listed under a Creative Commons license?
Please note: the additional "license-free" associated with an image does not automatically mean that you can use it wherever and whenever you want. Images listed with "Creative Commons" may mean they are free, however that does not mean they are free of copyright. This also includes "public domain" images. To use these types of images, you should always look for the individual license agreements and follow them carefully. If these license agreements cannot be located, attempt to contact the rights holder directly.
What if I alter an image? Can I use it then?
The act of copying or adapting someone else's work is a breach of copyright. Any adaptation will be legally regarded as a derived work; so if you simply adapt the work of others, it will still be their work, and they have every right to object, and are also entitled to any compensation you make from their work. The only safe option is to create something that is not copied or adapted from the work of others.
What if I'm unable to locate/contact the image owner?
Since you are unable to get permission or obtain the appropriate rights, you should not use the image. Claiming ignorance after the fact will not help you.
How do I get a quality image for my eBook cover?
There are various ways this can be done. You can create an image yourself by taking a nice photo or creating an image using your computer. But if you don't feel you have the skill set to pull off a high quality book cover, we suggest purchasing images from stock photo sites or hiring someone to create a book cover for you. When choosing this option, remember to obtain the image license and verify what information is needed to legally use the image. Typically, websites will list the license rights of each image next to the picture itself.
I don't even know where to begin. How can I obtain a nice cover?
Not all of us possess the creative streak necessary for creating a killer book cover. But not to worry. Our BookRix community is full of creativity. The members within our Art Writers group are always willing to help, provide tips and tricks and can assist you with your eBook cover design.
If you have additional questions about copyright, feel free to contact us at Support-en@BookRix.com and we'll be happy to help you.
-
We love indie publishing!
James Altucher is many things. If you classified him as an entrepreneur or a programmer, you'd be right. But he's also a bestselling author. His latest book Choose Yourself sold over 44,000 copies within the first month of its release. It reached #1 on Amazon's nonfiction book list and notably marked the Wall Street Journal's bestseller list. The best part? He self published it. You might think that his success came from knowing the right people or because some of his previous work was traditionally published. But according to James, that wasn't the case. In an article published by TechCrunch, James Altucher outlines how writers can get their book to the top of the charts by self publishing the "professional" way. Below are some of the highlights, but please feel free to read his entire article by clicking here.
Get Social & Build an Audience
Most people believe that traditional publishers can guarantee their authors a window front spot in retail stores. According to James, that's simply not true. Publishers have to pay for these types of placements, and it's done infrequently. Instead of hoping to build fans, create your own audience by getting on social networking channels and reach out to potential readers.
Don't Cut Corners: Proper Editing Is a Must
If you think editing your own work is sufficient, you're wrong. Anyone who's anyone will tell you that proper proofreading comes from a second set of eyes. And if you're smart, the second set of eyes belong to someone who knows a thing or two about spelling, syntax, grammar and, well… writing. When talking about his experience with his editor, James says: "Nils [editor] and I went back and forth on more than 15 different rewrites for my book. The difference between the original version and the final version is like the difference between chicken sh*t and chicken salad." James also admits that his previously published work through traditional publishers, were not high quality. When he opted to self publish Choose Yourself, he researched editing firms and hand selected his editor. This is one of the benefits of self publishing – you can do whatever you want!
Selecting the Right Title
We've talked about choosing a great title in our Publishing Tips & Tricks series and how important it is to pick a unique, straightforward title for your book. James took it a step further: "I picked 10 titles that I liked, combined them with the cover and created Facebook ads that I sent out to all my friends and friends of friends in the U.S. Then I sat back and watched the click-throughs. After a few days and thousands of click-throughs I had my title." Very smart!
We understand that everyone has different goals. But if you've ever longed to see your book on a bestsellers list, New York Times, Wall Street Journal or wherever, then you should heed the advice from someone who's been there and done it. James Altucher and his thoughts on 3.0 publishing are beneficial for the independent author seeking success:
"If your goal is to put out the best possible product, maximize the money you make, and get the most readers, then follow the next steps, what I call "Publishing 3.0."
1.0 was publishing with a traditional publisher.
2.0 was when the stigma of self-publishing went away and an entire new artistic outlet was open to millions of people (15 million books published last year versus 300,000 10 years ago). It's cheap, quick, and easy to get your book published.
3.0 is starting right now — where you can self-publish better, more successfully, better edited, better designed, better marketed, and make more money than if you go any other route. The reason this is possible only now is because for the first time, the best editors, designers, marketers are no longer working at the big publishing houses. Instead, they are striking out on their own and independently charging for their services. The demand is there. This route is more expensive than "publishing 2.0″ but is much more lucrative."
And there you have it!
-
We love indie publishing!
If you're an indie publishing enthusiast like BookRix, then you undoubtedly enjoy hearing a self publishing success story. Learning about a fellow writer's journey can be encouraging, provide insight and evoke inspiration for those with similar goals. Madeline Sheehan has published several eBooks and has 5 star reviews from over 1100 readers on Amazon. How did she do it?  I reached out to Madeline and asked if she'd be willing to share her eBook self publishing story in our blog. We're thrilled she said yes!
Self-Publishing, Blah, Blah, Blah…
By Madeline Sheehan
When I say "blah," I mean it in the very best way. Because self-publishing, in a nutshell, is a three-ring circus.
But let me start at the very beginning, before I was introduced to the big, bad, kill-or-be-killed, survival-of-the-fittest world of independent authors. Back when I was just a lowly Public Relations Coordinator/Editor at a nonprofit organization with a writing hobby that I indulged in during my downtime, dreaming the dream of most writers to someday see their book on a bookstore shelf.
I'd been writing nearly my entire life but hadn't completed a full-length novel until 2010 (The Soul Mate, a dystopian paranormal romance centered around modern-day gypsies), spending my evenings working tirelessly on the story line and character development. When I was finished, I didn't have a clue what to do with it, but I did know right away I wasn't going to be submitting it to any traditional publishing houses only to get my cherished manuscript tossed into their slush pile. So I opted instead to send it to a few family members for their opinions and amazingly enough, both my father and little sister, who are both avid readers, loved the book.
So then I thought, now what? You see, I didn't know anything about self-publishing other than I loved Amanda Hocking's Trylle trilogy and My Blood Approves series. I literally knew nothing about Amazon, Smashwords, or CreateSpace's self-publishing platforms until one day my husband came home from work with a tip from a friend of his who'd self-published a book of poetry on Smashwords. Of course I looked into it, created a profile, and submitted my manuscript, and within a few weeks my e-book was available through Barnes and Noble, Apple, Sony, Kobo, etc.
And…nothing.
I sold a grand total of six books in six months. Don't get me wrong; I was thrilled. Someone other than a family member had read my work. Had actually paid the $0.99 I was asking for it and READ it.
It was then that I decided to self-publish on Amazon as well, which, lo and behold, provided me with a lot more sales. A total of thirty in another six-month time frame.
Energized, I continued writing. While I was writing the sequel, My Soul To Take, I set up a Facebook author page to begin promoting my books to, well, my friends and family members. I had a total of a hundred likes, all of which were from people I'd known most of my life and weren't interested in reading any of my books.
Halfway through writing My Soul To Take, I hit a mental brick wall. In the midst of trying to work through it, I pulled up a fresh Word document and began writing my third book, Undeniable. It was as far removed from the paranormal romance genre I'd been writing in as one could get. Undeniable is a motorcycle club dark romance set in a criminal underground world. It doesn't hold back, it's taboo, it's gritty and ugly, it's raw, and I make no apologies for it. I poured my heart and soul into that book; I used both real and fictional experiences, real and fictional character traits, and about a month after publishing My Soul To Take, I published Undeniable.
Fast-forward three weeks and the Internet BLEW UP. Cocaine & Cupcakes Book Blog and Totally Booked had gotten a hold of Undeniable. They loved it, they promoted it, and they contacted me for an interview, which led to Maryse's Book Blog picking it up for review, which also loved it. All three of those blogs have huge, dedicated followings and after they reviewed Undeniable, I watched in awe as my sales skyrocketed.
I was suddenly #17 on Amazon's Kindle Best Seller list. My Facebook page went from 100 likes to 1,000, 2,000, then to 3,000. Agents were contacting me, readers were contacting me, bloggers wanted character interviews, book-signing coordinators were inviting me to sign alongside well-known authors such as Karina Halle, Raine Miller, Katie Ashley, Tina Reber, and Colleen Hoover.
And everyone wanted to know when the second book in the series was coming out.
Sounds like a dream come true, right?
Eh. It was and it wasn't.
Don't get me wrong; I was thrilled. This had been a childhood dream of mine, and for all intents and purposes, it was coming true. But like most things, self-publishing is not all roses and sunshine, and subsequently my dream come true came with a whole lot of baggage filled mostly with garbage.
Because I knew little about self-publishing, my books were not professionally edited, their covers were self-designed and, I'll freely admit, poorly done. All of which led to my being attacked in reviews. The venom of some reviews on both Amazon and Goodreads was a shock to my system—some of which were personal attacks having nothing to do with my books—and couldn't have happened at a worse time for me. I was being pulled in all different directions, felt like I was drowning in a sea of the unknown, and wasn't emotionally equipped to handle everything that was being thrown at me all at once.
What I'm going to say next is EXTREMELY IMPORTANT advice for new authors considering self-publishing. You need a strong backbone. You must have thick skin. You don't have a traditional publisher backing you, most times you don't have an agent, you don't have even half the tools available to you that publisher-backed authors do. This is all on you and if you aren't strong enough to take the bad with the good—and there will be a lot of bad—you should reconsider the self-publishing route.
Needless to say, I persevered. With the help of a professional editor who took it upon herself to contact me, Jovana Shirley of Unforeseen Editing and I took Undeniable off the electronic shelf and re-edited it. Author Angel's, another godsend, also contacted me and soon I had new-and-improved covers as well. Eventually, after assembling a small support team of incredible women, all three of my books received makeovers that I couldn't have been happier with.
But that wasn't the last of my battles; bad reviews were far from the worst aspect of being an independent author. You also have to contend with book pirating, dishonest bloggers, people looking to make a buck at your expense, and the worst, in my opinion, is the "competition." By competition I mean jealous authors, mean-girl cliques, snooty authors, authors who want to hitch a free ride on others' successes, who want to take the easy route. The list is endless and, quite frankly, it's sad.
You will be let down, stabbed in the back, betrayed, lied to and lied about, because again, you are doing this on your own. You are making your own mistakes without a traditional publisher behind you to build you up, then pick you up when you fall down. You'll have to weed through the bullshit all on your own—finding the "real" editors, honest bloggers, and people you can trust. The latter being the most crucial because in the world of self-publishing it's dog-eat-dog, and if you don't have a good support system, you could very well crumple under the stress.
I was lucky to find an amazing group of female authors, bloggers, and editors whom I cherish. They give me courage and strength, they hold me up when I fall down, and they have become some of my very best friends, despite that fact that some of us live halfway around the world from each other and have yet to meet.
Whereas some authors consider an overwhelming amount of good reviews and what big-name author they are hobnobbing with as indicators of their success, I do not. True reviews are important; they bump up sales. But friends—trustworthy friends—are even more important in this business.
I'm now a full-time independent author, and despite the stress of having to run a small business on my own, I've turned down two offers from traditional publishing houses. Why? Because self-publishing isn't all bad. It does have it perks, the main one being freedom. Freedom to write as much or as little as you please. No deadlines. More one-on-one time with your readers. You get to make your own decisions, price your own books at reasonable and affordable prices, and distribute your paperbacks to the masses as you please.
Whereas my dream was once to be part of a big-name publishing house, it no longer is. Once you wade through all the garbage in this industry, there is light at the end of the tunnel. Despite the fact that my books have yet to appear on a Barnes & Noble bookshelf, I've found that my dream has indeed come true—I am a successful author. I've just published my fourth book, UnBeautifully, and it hit #13 on Amazon's best seller list, #1 on Smashwords, #32 on Barnes and Noble, and #56 on USA Today! And you know why? Because I have a great team backing me and, more importantly, I'm doing things my way.
I honestly couldn't be happier. I love writing, I love my characters, and I love sitting down at my desk every day and immersing myself in my fictional worlds. But most of all, I love how many people out there love my work, love joining me in my make-believe worlds, and have joined me and stuck around for this incredible journey of mine.
So, is self-publishing worth it? For me, yes. All in all, self-publishing has changed my life. For the better. And I wouldn't change a damn thing.
And there you have it. Thank you so much Madeline for sharing your eBook Publishing story with our readers. We wish you the very best with Unbeautifully and look forward to seeing more of your work!
Whether you're looking to publish eBooks, sell eBooks or simply improve your understanding of eBook publishing – we want to help. Like Madeline explained, independently publishing can be exciting but also discouraging at times. Please remember that our BookRix community is full of helpful writers and readers who share your passion. If you have questions, need feedback or advice, consult with our members or reach out to us directly. We want to help! And if you're looking for effective promotional ideas, please look into the BookRix Marketing Guide. It was created to help prepare you for success.
We love indie publishing!
-
Genevieve