Just in time for NaNoWriMo! From AppVee:
As a reviewer, I do my fair share of writing, but nothing comes close to those who spend all day writing novels and producing other excellent literature. With a tool as awesome as the iPad, I was excited to begin writing without a keyboard or being tied down to the computer. Although Apple has provided an excellent document editor for the device, there was always the feeling that there needed to be something more. iA Writer for the iPad is that more.
See it in action: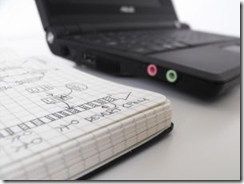 From Bnet:
"Management guru author Seth Godin has ditched his publisher, Portfolio (a Penguin Group imprint), after a dozen books with the company. Usually when an author leaves, it's for another publisher that promises more money, better editing, or whatever it takes to snag a big name. But Godin is turning his back completely on traditional publishing, creating e-books and print-on-demand paper titles and selling directly to his fans.

Authors have long complained about publishers — low advances, slow action, the amount of promotion they expect writers to do. But some big names are pulling the ripcords and either striking out into independent waters or making a clean break, all though e-books.

It's a huge threat to publishers, which depend both on blockbuster authors that bring in cash and negotiating leverage with resellers and backlist books that sell in small or modest amounts, year in and year out. If those people can walk away, the publishing industry is in real trouble. And the twist is that authors who develop regular contact with their audiences might be able to leave such resellers as Amazon (AMZN), Barnes & Noble (BKS), Borders (BGP), and Apple (AAPL) behind. Talk about the potential to turn an entire industry upside down.
Self-publishing is now not only the route taken by freshmen writers trying to get an audience, but it is also a route that some well-established authors are taking.
Why go the publisher route? Publishers are providing less of a service for writers, and writers are being called upon to take lower advances, and do more themselves. Most writers have their own website, and, with a bit of extra effort, self-publishing becomes an easy step to take.
Although blogs by established writers are a good format for contact with their own readers and fans, it's not all sunshine and roses for the writer trying to get a foothold. There is a lot to be said for the established publicity and marketing resources, however, publishers need to take notice.
So, will publishing companies cease to exist? Probably not, but this is a harbinger of what's coming next. eBooks are here and are not going away. The ways to obtain eBooks are getting easier and less proprietary. Publishing may be one of the next walls to scale, and the publishing companies should get prepared. In today's world, change is the only constant.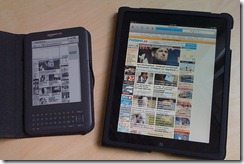 A recent L.A. Times blog by Alex Pham touted "Apple's iPad is good for Amazon's Kindle." Most look at the Kindle as being solely tied to Amazon; however, this is not necessarily so. Amazon has applications that allow it's Kindle eReader to be uploaded onto almost any digital device (PC's, Mac's, iPhone, iPad, Droids, and BlackBerry). The day of sole provider ebooks looks to be ended. Pham further states:
When Apple unveiled its iPad in January with its full-color high-resolution glory, many assumed it would be end of story for Amazon.com's Kindle book store and its black-and-white reader.

Turns out the iPad has actually helped Amazon. Not only are sales of the Kindle device expected to grow 140% this year to nearly 5 million units from 2009, but digital book sales via the Kindle store are on track to grow 195% to $701 million in 2010, according to Cowen and Co., which released a report Monday on the digital book market.

Greasing those book sales are Amazon's Kindle app for iPhone and iPad, which are the digital equivalent of little storefronts that let customers browse, buy and read digital books on those devices. In other words, you don't have to have a Kindle device to buy a Kindle book.

In fact, one in five people who buy digital books from the Kindle store don't own a Kindle device, according to Cowen's survey.

The "iPad is not having a negative impact on Kindle device or e-book sales," according to the report, written by Cowen analysts Jim Friedland and Kevin Kopelman. "In fact, we think the adoption of tablets will boost Kindle e-book sales."
As noted in the Cowen report, many iPad owners buy their ebooks from Apple, but the survey showed that they also buy ebooks from Amazon as well. Although both Amazon and Apple eBooks can only be read on their own devices, Amazon has found a way to get its application uploaded and spread the sale of its own ebooks. "For 2010, Cowan estimates Apple will have 5% of the market for digital books, compared with Amazon, which is projected to have 76% of the market. But by 2015, Cowan estimates Amazon will have 51% of the market and Apple with 16%."
It appears that Amazon is doing everything possible to spread Kindle eReaders as many places as possible. It will be interesting to see what happens next as more devices come on the market, and Apple steps up in this "ebook war."
Image: Priit Tammets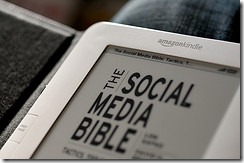 As E-readers like the Amazon Kindle and Barnes & Noble Nook become more commonplace in the general populace it's only a matter of time before businesses see the advantage of using E-readers in the workplace. The use of an e-book in place of manuals that take up several rows on a shelf, or bulky files with contracts, or other reference books would assist businesses in "greening" up their offices. This could save space for other materials and tools, or, possibly eliminate file rooms and cabinets entirely.
The ability to take manuals, contracts, or other reference materials in an easily portable eReader would enable employees to perform their duties quickly and provide instantaneous information to clients. In A Business Case for the Kindle (and Other E-Readers, Dave Johnson summarizes Julie Sartain's PC World article on the reasons why businesses should consider using E-readers and e-books:
They're the right size. If employees are already trying to read stuff electronically, laptops and netbooks are bulky and clumsy. Phones are too small. Likewise, 800-page reference manuals are equally cumbersome. E-readers are just right.

They're affordable. Not only are the cost of the devices plummeting (both the Kindle and Nook have hit $150), but e-books are around $10 each. Paper versions of textbooks, tech manuals, and reference books are very costly, suggesting that you'll see an ROI after buying just a handful of electronic books.

E-books are cheaper to distribute. Especially for internally produced documentation and literature, it's already cheaper to distribute documents on e-readers than to print, bind, and ship traditional paper.

Updates are easy. When your books and other documents are software, shipping updates and corrections is virtually free — especially compared to printing and distributing documents on paper.
The above are all valid reasons and, as mobile readers and e-books continue to expand in the marketplace, it's very likely that businesses will find ways to incorporate e-books into business policies and procedures, and determine additional ways to use E-readers for everyday use. It will be much easier for a company to download its policies, procedures, reference materials, contract information, as well as other data onto an E-reader than to continue to keep copious amounts of files in dusty file rooms. The use of E-readers in business can be an excellent way for businesses to manage costs and save money.
Image credit: [cipher]