Published
March 28th, 2013
|
By
BookRix


BookRix Bestselling Author!
Three weeks ago, we shared the interview with author Elvira Zeißler (click HERE to read the interview), the first BookRix author to sell over 5000 eBooks. Today, we're sharing the next runner up – German Fantasy writer, Tajell Robin Black (user jadefaye), author of the Dark Fantasy series – Shadow Jewel (Schattenjuwel). Tajell has sold over 4000 eBooks and the numbers are sure to keep going up and up, especially because the next part of the series is currently in the making.
Her first book, Shadow Jewel: The Heart of Elowia, published in February 2012, has sold 3340 copies so far and the numbers are still rising! The second book in the series, Shadow Jewel II: The Heart of Elowia Weeps , published in December 2012, sold 803 copies in the first 3 months! Aside from the series, her book, The Darkness in His Heart, published in August 2012, has sold 135 copies.
Here is the humorous and informative interview by the BookRix German Team conducted with Tajell back in May, 2012, translated just for you (by RebeckDawn):
Success is relative. For me it's been a great success just to have Shadow Jewel published. And if my books are successful, I owe everything to my readers, the Bookrix Team, and the love from the entire community.
Hello JadeFaye,
Thank your letting the community ask these questions!
1. How long have you been writing – can you remember the first book you ever wrote?
I will always remember my first time. When I was 9 years old, everything started when I wrote a short story about a stocky firefighter who was unable to save a child and his guilt causes him to break down. My teacher covered the story in red felt-tip pen markings and wrote underneath: Too long. Off Topic! And then I didn't even get a smiley sticker like all the other kids did. That was a very dramatic moment for me.
But my first real book, if one may call it that, I wrote when I was only 14. At the time I was addicted to the vampire books by Anne Rice, and so I wrote a book about a gay vampire. The novel was totally crammed with eroticism – things like that just happen when girls in puberty write books. Now, even calling it a "novel" is absolutely embarrassing.
2. Is Shadow Jewel your first novel?
Shadow Jewel is my first published novel. Guaranteed porn free (laughing).
3. How did you come up with the idea about the stones/jewels?
I saw a film about the so-called "blood diamonds". They are diamonds that are mined illegally, and when they're sold it finances wars and warlords. So I actually got the idea for the jewels from a real (and very sad) story.
4. Are any of the characters modeled after "real" people?
No, I hope not, and if so, I wouldn't admit it

. But I did use my best friend's name in the book – as a small tribute to our friendship.
In the second part, however, there are characters named after my fellow writers Jennifer Hunter and Andreas Fischer. Let's see how they both do on Elowia.
It's fun to name characters after people I know because if they do something I don't like in real life, I can quickly rewrite their roles, and suddenly they're nasty, ugly trolls. Hahaha – I have the power!
5. If you could actually go to Elowia and be any character from your book, who would you be– or do you see yourself mirrored to some extent in the main character, Lilith?
Oh, my God. I would definitely be Lilith. Ne is a hysterical b****. My heart really relates to the warrior, Baia, but if I could be any character, I would like to be the prince of demons.
6. How many books will there be in the Shadow Jewel series?
There are probably only two parts: Shadow Jewel II: The Heart of Elowia Weeps and Shadow Jewel: The Heart of Elowia.
*Since she answered these interview questions, she has published the second book in the series and is now working on part three – Shadow Jewel: The Heart of Elowia Awakens.
7. Did you expect this much success? How do you explain it?
Success is relative. For me it's been a great success just to have Shadow Jewel published. And if my books are successful, I owe everything to my readers, the Bookrix Team, and the love from the entire community.
8. Shadow Jewel has such a beautiful cover – who designed the cover for you?
The cover art is a painting I made. Actually, I was really not in the mood to make myself a cover that night, and wasn't feeling very creative, but suddenly there it was.
Since I'm often asked: It's not Lilith, but Alrruna who is on the cover. (To see the cover, click HERE)
9. Tajell Robin Black is a pen name – where does the charming name Tajell come from?
Yes, it's a pen name, at least partially. It also includes my real name. Tajell, by the way, comes from an absolutely unromantic place – a fantasy name generator. I only used the generator for my name and not for the names in my book. All the names have some kind of real meaning, like Alrruna. The Alruna are those who know the secret of the fairies / elves. Another example is Persuar, which is a variation of the Latin verb "persuadere" which means "to persuade or convince". And Persuars gem can indeed be quite convincing.
10. You are very active on the internet, especially in regards to the promotions for Shadow Jewel – There's a Facebook page, audio samples on Youtube, and you have even distributed reading samples on public transit. Do you have tips for other BX authors regarding such self-initiated marketing action?
Tips? Well, it all comes with time; lots and lots of time and patience. For an audio book, that's only about 15 minutes long, I need about an hour to make it. I made that sample on Youtube with only one single purpose: Torment the audience with my voice until they buy the book rather than continue listening to me.
11. How did you find out about BookRix?
That was totally random. I had already signed up a few months earlier and then I saw the 2012 Ad, the one that said you could also publish your BookRix book as an e-book. I had absolutely no idea about things like ISBN, converting ePubs, etc., but BookRix helped with everything. That's how I finally decided on BookRix.
12. Will you publish other titles with BookRix?
I think so, because until now everything has gone really well. Why would I want to change that?
13. How satisfied are you with BookRix?
Well, I can't complain about the speed of publication and distribution. Three days after my book was published, it was available in all the major online stores. Moreover, Bookrix supported me with their Facebook / Twitter services.
14. Is there a specific book on BookRix that impressed you? If so, which one and why?
Wow, that would be unfair if I named just one here right now. There really are many wonderful books here. Many books I've read are by very young and talented writers and I was really impressed by them. I think we'll be hearing from a lot of them in the near future!
15. Are you working on anything else aside from the Shadow Jewel series?
Yes, I'm still working on my urban fantasy book The Darkness in His Heart, about Kelpie, a water demon, who feeds on the souls of the people he drowns.
*Since this interview was first published, she has released The Darkness in His Heart and it's available in all the eBooks stores.)
16. Do you write better during the day or at night?
I am a total night person, but because I have a job, I'm often found writing on my lunch break.
(Dear Boss, if you read this, I distance myself from my previous statement. Of course I spend my lunch break working hard!)
17. Is there a ritual you performing before writing – something that helps inspire you?
I listen to sad music. If I'm too happy, I can't write because then I'll want to be doing other things, like sitting outside in the sun and eating ice cream.
18. What do you hope to get from your writing?
?Readers?
19. What inspires you?
The music groups Janus and ASP, and of course anime. There's no other genre quite like anime – it creates such clear illustrations of the conflicts and pitfalls of humanity. I'm not talking about the ones shown here in Germany, but of the ones that run only in Japan and have real depth. Unfortunately, German anime is miles behind.
20. Do you only read fantasy or other genres as well?
I read fantasy almost exclusively. Other genres just do not interest me. I need the magical, unrealistic feeling that opens up the imagination.
Besides fantasy I read, only as a contrast, "non-fiction" books, such as Eating Animals (you can only read this if you're really, really brave, because this book is really cruel and intense) or The Anatomy of Human Destructiveness (it's a great book despite its pseudo-intellectual title).
21. Are there other books or authors that have inspired you?
The author, Anne Rice, inspired me before she started writing Christian novels. And my big role model when I was young was Rafik Shami. To this day I can still remember his book The Honest Liar.
22. You're currently busy working on the second part of Shadow Jewel that will be released in autumn 2012. Do you still have time for your own reading, or are you focusing only on your writing?
Currently, I'm not reading very much because when I do read, I end up focusing on the writing style instead of the storyline. Reading then becomes more like a writing lesson, with me saying "Ah cool, so that's how (author) writes adventure scenes". After 20 minutes of reading, although I haven't been following the plot, at least I'll have 20 full pages of text examples for good writing to learn from.
Because I want to keep my own style, I have thrown all my favorite literature out of the bedroom.
23. What would be a perfect day, in your opinion?
Dream, dream and dream again…
24. Do you have another passion aside from writing?
Just in case anyone hasn't already picked up on this, I'll mention it again: Anime. And then of course, I have my drawing, and my little dog, Akimo, who has accompanied me faithfully through the last 6 years of my life.
25. Finally: Do you have anything important that you want to say to your readers?
Tajell loves you

. Sorry folks, unfortunately I don't have anything of real instructive value to share with you.
Except, of course: Thank you, Thank you, Thank you to all my readers who support me so much! You're the best!
Thank you for taking the time to answer these questions for your fans!
Stay tuned for more interviews with BookRix Bestselling Authors!
Published
March 5th, 2013
|
By
BookRix


BookRix author sells 5000 eBooks!!!
So far, there haven't been any big "Success Stories" with BookRix members on the English side of the site. However, things will not always be like this, as BookRix popularity grows with each day. We want to introduce you to Elvira Zeißler (pronounced Zeissler), a German BookRix Bestseller! Elvira (user elviraz) writes in a wide range of genres, from Fantasy and Romance to Children's Books and Poetry.
Her first book, Fairy Child I (Fantasy), published in June 2012, has sold 2869 copies so far and the numbers are still rising! Her next book, The Bonding of Souls (Romance), published in October 2012, has sold 665 copies so far. And her most recent book, Fairy Child II (Fantasy), published in November 2012, has sold 1466 copies! We're hoping that she's going to take the plunge and start publishing her books in English too! So keep your eyes open!
Here is the interview by the BookRix German Team conducted with Elvira back in November, 2012, translated just for you (by RebeckDawn):


The many futile attempts to have my novel noticed by a well-known publisher or even an agent, were really starting to wear me down. It was a dark time and I was starting to doubt myself and my stories. But then I came to Bookrix…
Dear Elvira,
Thank you for this interview and for answering our questions. Many users have sent us questions that we're sure will make you happy. We have picked out the best questions and don't want to wait another moment for your answers. Let's get to it!
1. Why did you choose to publish at BookRix?
At BookRix, I don't feel like a lone warrior who fights in vain against the "Windmills of Publishing".


Actually, Bookrix was the one who gave me the idea. Late last year, when you announced your publishing service, I first thought seriously about eBooks. Since I wasn't even reading eBooks at that time, the idea of publishing eBooks was previously non-existent.
2. What was the first book you wrote?
Apart from short stories and poems, it was my novel, Dark Fire, which I had started when I was 17 and finally completed at 24. During the process, I didn't even really believe that I would ever make it to the end. And yet, I kept pulling the manuscript out of the drawer to work on it.
3. How long did it take you to finish Fairy Child? (Original language title "Feenkind")
Part One and Two of Fairy Child took me two years of intensive work. Every day after work I'd go to my PC again and write for at least an hour. The story wasn't simply flowing out of me. Before I fell asleep at night, I couldn't imagine what I was going to write the next day.
4. The question that all your fans are probably asking: When will the sequel to Fairy Child be released?
The eBook is almost completed, and a beautiful new cover was just added (thanks to Cassyk). Here at Bookrix, the book should be available in November, and therefore it will be in all the shops by early December at the latest.
***This interview is from November 2012. Since then, her second book has been published.
5. Where did you get the idea for The Bonding of Souls? (Original language title "Seelenband")
The Bonding of Souls was totally "interleaved". I had a hangover from the fantasy novel that I was writing, and suddenly I had a strong desire to get involved with a romance novel. So I wrote The Bonding of Souls.
* Laughs * No, it wasn't quite that simple, of course. I'm always very structured when thinking about my characters.
With Valerie, it was important to me that the female readers could identify with her. And in John, it was important that he wasn't a vampire, werewolf or angel.
Also, you might have noticed that my romance novels are about what I'm interested in (in the fictional realm, fortunately not in the real world), like mysterious men with a certain dark side. When I brought all of that together, The Bonding of Souls emerged.
6. Some fans of The Bonding of Souls (especially the women) are wondering: Is John inspired by a real person?
The answer is both yes and no! I am happily married and my husband and John definitely share many of the positive attributes. However, he is nothing more than a role model for John or any of my other male characters; just as I am neither Valerie nor Julie Dhalia. My characters are always completely fictitious, even though they may share some properties with real people.
7. Can you explain the success of your novels?
I'm not sure, but I'd like to know so I can repeat it in the future.

No, seriously, I'm very adamant about keeping my stories and the actions of the characters believable and realistic for the readers. This is especially true with feelings (above all – love)and it is important to me to let them grow and reveal them slowly to convey authenticity. What I do not like are big words, where you, the reader will end up feeling nothing. I always try to incorporate unexpected twists and turns as well, which sometimes end successfully and sometimes fail.
8. Your stories have such a variety of different subjects, so how do you know when it is going to be worthwhile to actually pursue a new idea?
I must admit that I (unfortunately) am not a gushing fountain of ideas, like many other authors who must often decide which idea they are now pursuing further. Before I start a novel, I consider first, which genre I want to write in. Then I think about what is commonly known about this topic/genre and try to find a gap, that is, something that has not already been written about extensively. If I then, at some point in my search, happen upon something that creates a kind of inner excitement and my imagination begins to develop a story, I know I have found something worthwhile. I'll then take a few days to try it out and see if I can actually get together enough "story" to make a rewarding story-line with it.
9. In your books fate often plays a role – Is there a special reason for this, or is it your destiny to write about fate?
* Laughs * A good question. I haven't really thought much about it. But if I had to choose, I would say that I have a tendency to trust reason. There are many forces that can influence our lives, but in the end our freewill decides which path our lives, and therefore our destinies, will take. In that sense I don't believe in a fixed or predetermined fate, but I find the subject itself rather fascinating.
10. Is there a piece of text, a protagonist, or an idea that you're particularly proud of?
All my novels have a lot of heart and soul, and of that, I'm really proud. I regard Fairy Child as my masterpiece. However, if I have to pick just one thing, it's probably the Dark Fairy, Eliza, from Fairy Child, and the transformation that her character experiences in the Part Two. When I started to write the story, which was not really even planned, the character of Eliza just developed a life of its own, which surprised even me.

11. Can we expect another book series from you in the near future?
Yes. I'm writing another fantasy novel with the working title, Dragon Tooth and I hope I have it ready early in the New Year. It's about a boy from our world who lands by accident in a fantasy world and tries to get back. This is not a new topic, but I hope that I gave him, in one way or another, some interesting and new situations. My two short stories, The Oath of the Dragon and The Song of The Ice Desert are small prequels for Dragon Tooth.
The first chapter is already on BX, but because the cover isn't uploaded yet, the book has not yet received a lot of clicks.

12. Do you do your own marketing and if so, how?
I still have a lot to learn about this area because I'm not really an active participant in social media. I guess I'm too old fashioned.

The only things I'm doing at the moment are audiobooks of my novels. I have been adding them one at a time onto Youtube.
13. The next question is really overdone, but it's also one of the most interesting: Why exactly do you write?
First, I just wanted to try and see if I could do it. But now, it has become an inner need. It just doesn't feel right not to have a story to think about in all my quiet moments. I cannot imagine life without writing anymore.
14. And who are you writing for?
For me, for my family (which consists of my biggest fans), and now also for my readers. It's an indescribable feeling when someone expresses positivity about the work that you invested so many, often doubt-filled, years of your life to.
15. Do you have an author role model?
Not really, no. There are always books or sites from which I learn something while reading and think, "Ah, so that's how that works". My only novel that was inspired by other books and authors is Dark Fire. I started it after I read Phantom by Susan Kay and Dangerous Liaisons.
16. Do you find it more difficult to start or to end a book?
The beginning is definitely more difficult for me. In my mind, I have to have at least the rough draft of the story completed before I start to write it at all. Also, at the beginning I put a lot more pressure on myself and have higher expectations. The reader has to be convinced that the book is worthwhile in the first few pages. That's also why I like to start with a prologue that makes you curious, without giving too much away.
Writing the end can sometimes be really tricky, but mostly it arises as the story unfolds.
17. Are there any BookRix members who have helped you with your books?
Unfortunately, since I have a serious lack of time at the moment, I barely get to be present in the groups at all anymore. Right now, I'm basically non-existent in the community.
18. Who designed your beautiful cover?
Cassyk, A.K.A. Casandra Krammer. Because I am an amateur cover art designer, I am infinitely grateful for her skills.

19. What was the biggest setback to you, in relation to the tests each author must suffer, and how did you overcome this crisis?
The many futile attempts to have my novel noticed by a well-known publisher or even an agent, were really starting to wear me down. It was a dark time and I was starting to doubt myself and my stories. But then I came to Bookrix…
20. How important is contact with your fans?
I find the direct contact with my readers to be really great. Of course, all positive feedback goes down real easy and makes me happy. And I always think a lot about any overly critical comments and try to implement the feedback into my future writing.
21. Have you ever struggled with writer's block? How did you overcome it?
I decided not to force myself to write. When I have no desire to do it, but would rather read a book or just lazily watching TV, that's okay. As I have been writing for almost half my life, I know that there are dry patches and that the writer's block always goes away. That's one of the advantages of being an indie author – not having a publisher breathing down my neck!

22. Do you follow a strict schedule for when you write or do you only write when you really feel like it?
As I said, I no longer feel forced to write. It's better if I "grab some" free time when I can. I notice more and more that my head starts to work immediately after I've had some leisure time. When I had a few days off and my daughter was still in kindergarten, I was writing almost all the time.
23. When do you write best?
Whenever I have some time.
24. If you could have one wish, what would you wish for?
You mean, other than that my daughter starts sleeping in her own bed at last?

I would wish that my novels sell so well that I didn't have to work full time anymore and could then have more time for my family and my writing.
25. Do you have any tips to share with other authors?
Don't let yourselves be discouraged by rejections, writer's block and criticism. I'm sure if you really want something, you'll find a way. Even if this path leads you away from your original plan of shelves filled with print books and suddenly your eBooks are all over the internet and media.

Thank you for this wonderfully sympathetic interview! We wish you continued success as an indie author, and we are looking forward to more work from your pen.
Stay tuned for more interviews with BookRix Bestselling Authors!

We can never learn enough about the authors who write our favorite books, but I'm out to try my best. Here are some fun questions I asked John C. Laird (alsam2) author of 16 BookRix books.
1. When did you first realize you wanted to be a writer?
In high school. Several of my friends enjoyed a few of the stories I wrote and encouraged me on. I continued writing my first couple of years of college but never really became serious about it. Then life proceeded to get in the way and several decades passed before I decided it was now or never. That was about two and a half years ago, and now I shall ride this wave all the way to the end.


2. What do you like to do when you're not writing?
Although retired after 30-years in law enforcement, I still work part time as a private mail courier. And believe it or not, I still have two teenagers at home, ages 17 and 15 (girl and boy). Enough said on that. But I do like jogging with my black Labrador, Jaxon, and enjoy a good game of chess. And I have found several good chess players on BookRix. As a matter of fact I'm in the middle of two games right now, with the outcome still up in the air on both.
3. How many books have you written? Which is your favorite?
Seventeen. But picking a favorite is a tough one. Every one of my stories has a part of my heart and soul in it, to one degree or another, an experience I'm sure all writers have. For me, probably the three I've currently e-published through BookRix , took the most out of me: "Redemption", "You Get What You Pay For", and "Going Home". Of those three, "Going Home" taxed me the most. Every time I'd go back to revise and edit, I'd get tears in my eyes. For me, it was a tough one to write emotionally.
4. Is anything in your book(s) based on real life experiences or purely all
imagination?
Both. The three I mentioned above were entirely fictional (although the basketball arena in "Going Home" is real). Others have varying 'chunks' of real life experiences in them. The whole first half of "Turn Around When Possible" was based on a real vacation in 2012. In other stories I have taken a particular incident and let may imagination run with it.
5. What is your favorite book? Why?
"The Black Rose" by Thomas B. Costain, 1945. Set in medieval England, it is an 'epic' (a measly 400 pages) romance that spans the world from England to China and back, the separation of the two true loves, and the struggle of one to return home to be reunited with her love. I don't know how to explain it–the trials, tribulations and 'sweep' of the story just got to me.
6. Do you have any advice to give to aspiring writers?
What advice can I give that hasn't been given over and over? Let's go with this: Imagination, desire and stamina can take you a long way, but if you want to increase your readership and be a success, you have to learn the rules. Yes, gang, that means
proper grammar, spelling, tenses, punctuation, etc., etc., etc. If you don't write it properly, don't expect many people to read it (other than your family and friends). And don't forget to edit when you're done. Then edit again. Writing may be fun, but there is a 'work' component to it.
Now it's time to move onto some questions that are just for fun:
7. If you were written about in the newspaper, on the front page, what would the headline say?
"J.C. Laird Vaults Past Stephen King With New Best Seller". Ahhhhhh, the wonders of the imagination…
8. If you won $20 million in the lottery, what would you do with the money?
A big chunk would be immediately invested to provide for the future. There also would be quite a bit of traveling on the agenda. A few luxuries and then I would give some away. One of my favorite TV shows when I was young was the "The Millionaire" in good ol' black and white. An anonymous millionaire would give away one million dollars to someone or to couples and the stories would revolve around how the money would affect the people (not always good). The stories fascinated me.
9. What would I find in your refrigerator right now?
A little bit of everything. All the shelves are filled. My wife and daughter have special diets because of health issues, so the problem for my son and I have is finding something in particular we're looking for and how long that something has been in there. It's usually an adventure.
10. If you were a Star Trek or Star Wars character, which one would it be? Why?
Star Trek: Pavel Chekov. Just being realistic. I would have been good at all the things he was in charge of, from the original series through several movies: Navigator (TOS); Weapons Officer (I); First Officer, USS Reliant (II); Navigator, Weapons Officer, and Chief of Security (III-VI)
11. If you could have been told one thing that you weren't told when you were a teenager, what would you like to have heard?
"This too, shall pass," and "Time heals all wounds." All the trials and tribulations of a dysfunctional family life, broken hearts and romances; it would have been nice to know I would outgrow all of it.
12. If you were to name one piece of clothing that describes you, what would you say?
Sweat shirt. Add a pair of sweat pants and you'd have the complete ensemble (wearing that combo right now).
13. What cartoon character best represents your personal philosophy?
Wile E. Coyote, for his determination and persistence. We won't talk about his continual failure to succeed in catching the Roadrunner. Let's stick with the positive.
14. Why am I asking you these questions?
To give me a headache. You're a sadist.
15. Where is the furthest you have ever traveled to?
Bermuda. Told you I'd use some of the money to travel more.
16. What is your favorite unusual food combination?
Green chile in most everything. In New Mexico, the question is red or green? I prefer green: on my cheeseburgers and sandwiches, in my soup, my omelets, in my mash potatoes; you get the idea and can imagine the combinations. Haven't tried it in ice cream yet, though…
17. If you had to be a teacher of something, what would you teach?
History. Always loved it; it was my major in college and I was going to be a teacher of it. Turned out I didn't have the temperament for that line of work. My tolerance for
juvenile delinquents was/is pretty low; I would have gotten sued somewhere along the way if I had continued.
18. You were bitten by a vampire, now what? (Or werewolf)
Put me out of my misery: if a vampire, put a stake through my heart. If a werewolf, shoot me with a silver bullet. If a zombie, shoot me in the head. Unlike some of the younger generation, I wouldn't want to become any of them. Uck, disgusting.
19. As a child, what did you want to do when you grew up?
Believe it or not, a marine biologist. The ocean and the life it contained fascinated me. One of my favorite childhood TV series was "Sea Hunt" with Lloyd Bridges. Black and white, of course.
20. What is your #1 guilty pleasure?
Chocolate. What can I say?
Well, now I really want some chocolate…
Thanks to John for answering my questions – if you want to check out more of his books, just stop by his profile page by clicking HERE.
Posted in

BookRix, BookRix Community, Featured Authors, Featured Books, Interviews
|
Tagged

alsam2, BookRix author interview, Going Home, Interviews, John C. Laird, Redemption, You get what you pay for
|
4 Comments
Published
July 23rd, 2012
|
By
BookRix
Success in self-publishing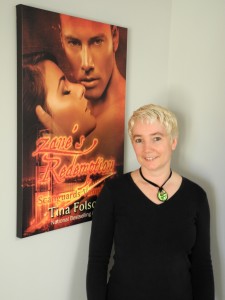 Tina Folsom is the first German eBook millionaire.   She publishes her books in several languages, such as English, German and Spanish (just to name a few). When we heard about her success as a self-published author, we had to find out more!  We immediately tracked her down in the United States, where she is currently living.  We spoke with Tina personally and requested an interview.  Tina was more than happy to oblige.
BookRix:
Let's start off with a question all authors get: when and how did you start writing?
Tina Folsom:
Though I wrote my first mystery at the tender age of 13, I stopped writing again for a very long time after that. In 2001 I studied screenwriting at UCLA (in Los Angeles). It really made me focus on writing again, but it took until the fall of 2008 till I actually found the right genre for me: romance. In the wake of the Twilight and vampire craze I started writing again.
BookRix:
How long did it take from your first published book to the success you found as a self-published author? Were there key moments when things suddenly took off?
Tina Folsom:
Everything happened surprisingly fast: mid 2010 I self-published my first vampire romance on Amazon, six months later my monthly writing income was sufficient so I could live off it.
I think what had a great impact on my success was that I published several novels in quick succession. Since I had started writing two years earlier, I had already finished a few books and could publish those relatively quickly. It really helped build momentum and kept readers interested in me. And the more books you have, the better you show up in the search results.
When I published my 3rd vampire romance in December 2010, my income suddenly rose 6-fold. The fact that the novel was within a series, was most likely the trigger for this tremendous success.
BookRix:
Did you try to go the traditional publishing route first, or did you know immediately that you wanted to self-publish and remain independent?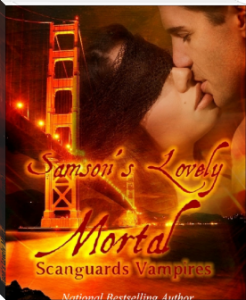 Tina Folsom:
Of course I wanted a traditional publishing deal first. But I failed trying to attract even an agent. Only one agent asked to read my manuscript, and she rejected me, saying my vampires were just not dark enough. It was a disappointment, so I contacted publishers directly. No luck. I went the self-publishing route because I was desperate. I wanted people to buy my books; I wanted them to read my books. Today I couldn't be happier that no publisher or agent was ever interested in me. To be independent is the best thing that ever happened to me.
BookRix:
Do you think in the future it will be totally normal that authors like you find success in self-publishing, or do you think it's a temporary phenomenon because self-publishing is relatively new and therefore readers are interested in it?
Tina Folsom:
More and more authors enter self-publishing, so it's getting harder and harder to make a name for yourself. So, in a way, for authors who're trying to do what I've done, it's getting harder. However, they also have an advantage over when I started: the stigma connected with self-publishing is vanishing.
By the way, I don't think that the average reader even knows whether an author is self-published or traditionally published. Most will never notice this detail. I have lots of fans who at first had no idea that I was self-published. And as long as the self-published author is professional, there's no need for them to ever find out: just make sure your book cover doesn't look homemade and that your book has been properly edited.
Good authors who understand a thing or two about marketing will always make it in self-publishing, no matter when they enter the field.
BookRix:
What marketing tips can you give our Bookrix authors?
Tina Folsom:
I can only tell you what I did myself: I communicate with my fans on Facebook and Twitter. In order to attract more people to my Facebook page, my Twitter account and to my newsletter, I always supply links to those sites in the back of my books. I make it extremely easy for people to sign up and to contact me.
I write to genre specific blogs to announce a new release and ask them to review it. I also do lots of giveaways of signed paperbacks. Occasionally I even raffle off e-readers. That attracts a lot of new readers.
Visit Tina at BookRix to read more samples or click HERE to visit her homepage.


I met Sophie during my stint in the hospital this past April. She was one of three nurses who helped me during my week long stay. I've seen plenty of medical pamphlets with photos of smiling models portraying doctors and nurses, but I hadn't yet come face to face with the real deal. That is, until I met Sophie. Unlike the other nurses who simply completed their rounds like emotionless drones, Sophie was actually friendly. She seemed to take a genuine interest in me and went out of her way to make my stay comfortable.
During my time there, I had begun reading GirlVert by Oriana Small aka Ashley Blue (an adult film star's memoir). Sophie asked me about it, so I read a few passages aloud. We both raised our eyebrows and laughed. She admitted to recently finishing Fifty Shades of Grey and I suggested a book swap. On my last day there, we exchanged books and I asked her if she'd be willing to participate in our blog series. Today, I was thrilled to receive her answers to 'the same 5 questions I always ask'. Enjoy!
1.      What book has been the biggest influence in your life? My grandmother would read to me when I was little. She had a series of books that were falling apart even back then. Sadly, I don't recall the name or the author. There were 6 small books, each containing a life lesson: Listening to your conscience, the power of honesty, treating others with kindness, and so on. My favorite story was about treating others as you wanted to be treated. I'm convinced those books are responsible for me being a nurse.
2.      What author and/or character do you identify with most? I have a hard time identifying with characters on a personal level. I can relate to their feelings and empathize with their situations. But I haven't ever read a book that embodied my character. I'm sure it's out there though.
3.      What do you think happens to you when you die? Growing up in a Catholic household had me convinced that we're all going to heaven when we pass. Now that I'm older, I'm not sure. I love the hope that heaven brings, it's a lot less daunting than other afterlife alternatives. But I'm a traditionalist. It makes sense for me to believe in heaven. There's nothing wrong with having a little faith.
4.      Have you ever penned anything yourself? And if so what's the recurring theme? My goodness, I haven't picked up a pen to write anything in over a decade. I prefer to read than to write. I think I lack the gift. My mother would buy me diaries as a teenager and I'd write two entries and then forget about it.
5.      If you had to re-live your life as a character in a book, what book/character would it be? Lisbeth Salendar, The Girl With the Dragon Tattoo. We are complete opposites. I have no idea what its like to be a rebel, but I'd like to find out.
Thank you, Sophie. You rock!


Isabelle works at a tiny coffee shop in my neighborhood that I walk past daily. She has a very slight frame, which makes it easy for her to squeeze between the espresso machine and the tall standing thermoses behind the counter. Within this narrow space she has just enough room for herself and her Kindle, and with the view of the front door in place, she can easily see when a customer walks up. Cheers to reading while you work!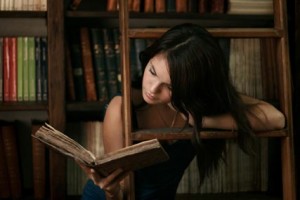 1. What book has been the biggest influence in your life?
Bad Childhood Good Life, by Dr. Laura Schlessinger. I think so many people (myself included) use their less than perfect childhood as an excuse to live their lives as perpetual victims because it's easy. When someone suggested that I read it, I was skeptical. Self-help books are a dime a dozen. But I gave it a chance and soon found myself agreeing with what she said. Bad Childhood Good Life showed me that when you're a victim, the past is in control of your present but when you're a conqueror…the present is controlled by your choices. It was very inspiring.

2. What author and/or character do you identify with most?
A few come to mind, but I would have to say Marianne Dashwood, from Jane Austen's Sense and Sensibility.
3. What do you think happens to you when you die?
Sleep? I don't really think about it.
4. Have you ever penned anything yourself? And if so what's the recurring theme?
I have several drafts on my computer that I've been working on and one day hope to self-publish. It's about growing up with a bi-polar parent, essentially, it's a book about my life. I'm not writing because there was anything special about my circumstances, but because I've never seen any other books written from this perspective. At least nothing for teens and young adults and I think its important for them to be able to relate to something or someone. Just to know they're not alone. Growing up is hard enough, having to do it amidst chaos is a challenge in itself. I'd like to tell anyone out there going through something similar that it gets better.
5. If you had to re-live your life as a character in a book, what book/character would it be?
Scarlett O'Hara. I've always wanted to wear a hoop-skirt on a daily basis. Just don't tell my husband that.
Due to the candidness of her answers, Isabelle asked that I not post her photo in our blog. I respect her wishes and am thankful for her honesty (and look forward to reading her book).
Thanks, Isabelle!